Juvenile Scoliosis Bracing Case Study: From an Accidental Diagnosis to Educating Her Peers
Posted on
Until last winter, Jessica Fioretti had no idea that her 5-year-old daughter Kendall had scoliosis. Jessica herself had been diagnosed with scoliosis as a teenager, but even with that knowledge, she saw no signs in Kendall.
"Nothing ever visually stood out to me," said Jessica. The telltale signs that I had were not present with her."
Then last winter, Kendall was hospitalized a couple times for upper respiratory infections and the flu. Her pulmonologist noticed a spinal curve in one of her chest X-rays and referred the family to an orthopedist.
Kendall had a full scoliosis examination done, including a more detailed X-ray of her spine and measurement of her spinal curve. She also had an MRI to make sure there was nothing neurological causing her scoliosis. "Luckily, they ruled that out," said Jessica. "Once neurological problems were ruled out, my anxiety level went down a little bit."
Kendall was diagnosed with juvenile idiopathic scoliosis, which is defined as scoliosis first diagnosed between the ages of 4 and 10. "You never hear of it happening to kids this small," said Jessica. While it's true that most cases of idiopathic scoliosis in children are diagnosed in adolescence, juvenile scoliosis accounts for 12% to 20% of all idiopathic scoliosis cases.
Choosing a Scoliosis Brace
After Kendall's initial diagnosis, Jessica decided to get a second opinion at the Children's Hospital of Philadelphia, the closest children's hospital to her home in New Jersey. She met with Dr. John Flynn, who explained her bracing options for Kendall.
"You go on social media and everyone has their own opinions about braces," said Jessica. "The original orthopedist we saw suggested a different brace—the Rigo Cheneau—and Shroth physical therapy. But really listening to Dr. Flynn explain how the Boston Brace 3D works, he seemed to be really knowledgeable and I decided to go with that. I felt comfortable and confident with the Boston O&P team and didn't want to go with something newer that didn't have as much research behind it."
Jessica was able to meet with Chris Nelson, CPO, the director of the Boston O&P Philadelphia clinic, at that same appointment, and he measured Kendall for her brace.
Jessica also had to wear a brace as a teenager, but the experience was much different back then. "They weren't constructed as nicely in those days," Jessica said. "And I remember having to be body casted for the mold and Kendall just had a 3D scan with a tablet—the clinician just walked around her scanning her body and that was it."
The brace was ready within 2 weeks, and Jessica was able to pick it up at the Boston O&P clinic in East Brunswick, which was much closer to home.
"I love the fact that we were initially seen at CHOP by one person, then all the paperwork was smoothly transitioned so we were able to pick the brace up locally," Jessica said. "That made it very convenient for us."
Patient care and patient satisfaction are critical to Boston O&P. Another clinic was more convenient for the Fioretti's so a transfer took place. In this case, communication between the two treating clinicians was vital to Kendall's success. This is one example of the sort of service Boston O&P provides.
In the East Brunswick clinic, Mike Kitchen, CO, the clinical director of East Brunswick, completed the fitting and showed Kendall and her parents how to put it on. He also showed them how the brace corrected her spinal curve.
"In brace it was amazing how much it corrected the curve," Jessica said. "Kendall's thoracic curve is 33%, with the brace on it was corrected to 10%." That summer, Kendall had a follow-up appointment with Dr. Flynn, and Chris Nelson checked her brace. "He's very patient," said Jessica. "He checks her and makes sure the brace is fitting properly."
Adapting to the Brace Wearing Schedule
The recommended wear time for Kendall's brace is 18 hours. She wears it while she's sleeping, and throughout most of the day with breaks in the morning and afternoon for rest and activities.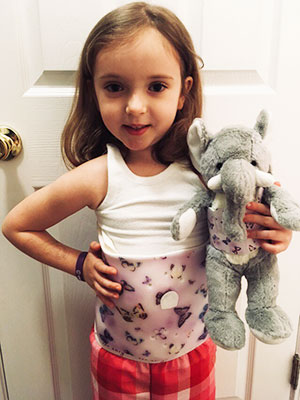 Kendall starts kindergarten in the fall, so she has been getting used to wearing the brace in preschool. "She had a supportive teacher and we purchased some of the books recommended to help her understand it and explain it to others," Jessica said.
Kendall has a stuffed elephant named Ellie who also wears a scoliosis brace, and Kendall took Ellie to school to help her show the other kids what bracing was all about. "They all read the books together and the kids were able to ask questions," said Jessica. "That really helped the transition and we're hoping to do the same in kindergarten."
So what did the kids want to know? "They wanted to know what the brace does, and they asked if they could feel it," Kendall said. "They said does the brace feel weird and I said yes."
"Her curve was pretty significant for being so little, so I'm thankful that we had this accidental discovery," said Jessica. "If we hadn't, who knows what would have happened."
---