Q&A with Matt Westlake, CO, Boston Orthotics & Prosthetics
Updated (Originally posted )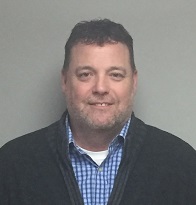 Matt Westlake joined Boston Orthotics & Prosthetics in 2018 as the Clinical Director of the Manhattan and River Edge, NJ clinics. In this Q&A, Matt shares how an injury changed the course of his life, how he learned about orthotics, and why he chose to specialize in rare orthopedic and neurological pathologies in children.
Your path to your current profession started when you became a student athletic trainer for the Fordham University football team after you experienced a neck injury as a player. How did that affect your life?
When I told the coaches that the doctor said I could never play again due to the high risk of permanent nerve damage, they asked me to be part of the athletic training staff so I could remain part of the athletic program. It was a life-changing moment.
That moment caused you to change your field of study from humanities to biology and psychology. Why those two fields?
While working as a student athletic trainer, I became more and more interested in the medical field. With this major, I would have the prerequisite courses for any of the medical fields that I was interested in. Physical therapy was my first choice.
What did you like most about being an athletic trainer?
I loved treating the athletes and working with the medical staff. They were very supportive, instructive and nurturing. I tried to absorb that from them as much as I could.
After graduating in 1993, you began working as a physical therapist aide specializing in acute care rehabilitation. What does that involve?
I worked at Valley Hospital, which is an acute care facility, so I saw patients at their weakest. I would assist the PTs/OTs in every area of the hospital in multiple disciplines of rehab. Every month, my rotation would switch. I covered outpatient, inpatient, pediatric, geriatric, medical/surgical, cardiac, orthopedic, neurologic, psychiatric, and wound care.
How did you learn about the field of orthotics?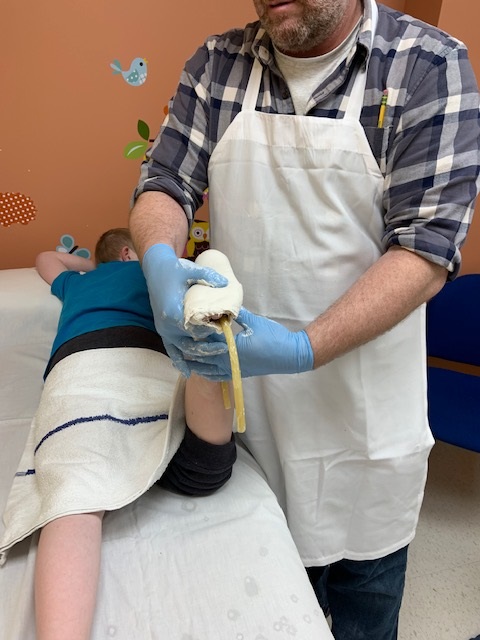 I learned about the field of orthotics while working at Valley Hospital on the ortho/neuro rotation. Almost every patient had a brace or needed one; mostly post-surgical back braces and PLSs for drop foot. The therapists I worked with could tell I had a three-dimensional mind and thought that with all my related medical experience I would be a good orthotist. So I applied to the Newington Certificate Program and was accepted, not really knowing anything about bracing.
You became the first recipient of the Tom McVeigh-Kimberly St. Germain Human Spirit Award. What did that involve?
It was an extreme honor. The students that the award was named after perished in a car accident on their way home from class at UConn that previous spring. It was a major tragedy and still held a heavy weight on the community at Newington. I was awarded this honor for my devotion, motivation and positive attitude during my time there.
After working in all areas of orthotics, you chose to become a pediatric orthotist specializing in rare orthopedic and neurological pathologies in children. What made you pursue this specific segment of orthotics?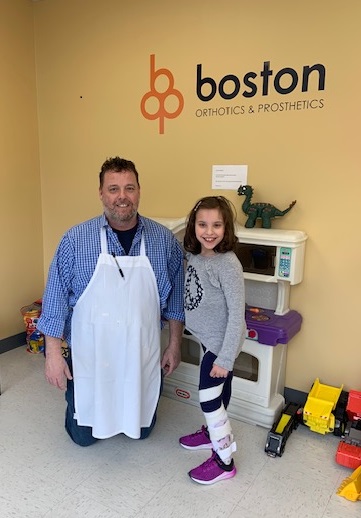 I loved the allure of the unknown. There weren't a lot of orthotists that I knew strictly working with children, and specifically, the most medically fragile children. Every day was a new day with something different to experience. At night, I would read about all of the conditions that I was confronted with and all of the surgical procedures that my patients were recovering from. My desire to truly know and understand these conditions and procedures became extremely helpful. Most families that would come in did not understand what their child was diagnosed with nor what the future would hold. I hated not having answers for my patients and their families. So I studied to the point that I could explain these situations to a 5 year old. If you can explain what you are doing to a 5 year old, then you have a good grasp of the knowledge.
What do you see as the most exciting advancement in scoliosis treatment?
I would say the Boston Brace 3D® by far. I have fit almost every type of spinal device to address scoliosis, and the Boston Brace 3D is head and shoulders above the rest in terms of compliance, heat retention, ease of donning and documented results.
What do you think makes Boston O&P's treatment of scoliosis different than other approaches?
Boston O&P's approach to scoliosis treatment is a combination of advanced clinical skills, technical expertise, ease of exchanging information, empathy, and the desire to treat the whole child by addressing the entire family's needs and wants.
What is the most remarkable outcome you've experienced for a scoliosis patient being treated by Boston O&P?
The most remarkable outcome I've had was getting a little boy with a 35 degree TL curve down to 0 degrees while in-brace without any fitting problems. In years past, the expectation was to stop the curve from getting worse. With the Boston Brace 3D, we're actually seeing curve "correction."
As the owner of Lorelei Orthotics in New York City from 2010 to 2018, you fabricated your own braces. How are Boston O&P braces different?
The braces that I fabricate were conceptualized from more of a physical therapy backround versus a strict orthopedic influence that is taught in schools. Prescribing and fabricating dynamic AFOs is something that I learned from going to PT courses after I got my ABC Orthotic License. What's important is that I'm sharing my knowledge with Boston O&P and together, we are evolving in the pursuit to make better braces for everyone.
What types of orthotic treatment and evaluation do you provide to patients at Boston O&P?
In all of my clinics, I am presented with patients who do not have written prescriptions yet. The doctors and the PTs wait for my evaluation and then we discuss the best options for that specific child. It's not a "cookie cutter" operation.
What type of brace would you consider your specialty?
I have experience working with all facets of bracing. Pediatric, custom lower extremity bracing is my main area of focus.
How do you decide what bracing approach to take with a patient?
From start to finish, the whole patient is my focus. I might have the most appropriate brace in mind for an individual, but if there are other factors involved (i.e., the amount of help at home, how involved the child is, concerns of cosmesis and other psychosocial reasons), then I have to tailor the device to accommodate the situation in order to gain compliance. In situations where we use less of a bracing strategy, I explain to the patient and the family that we are deciding to go with less outside control and explain what the device is designed to do so the family knows what to expect.
What made you decide to become a part of the Boston O&P team?
I had been in a small business for 19 years and I wanted to open up my company and my clinical/technical skills to improvement. When one is in their own private Idaho for that long, one gets stuck in their ways and the process never improves. I wanted to open myself up to other styles, products and concepts that I may not have reached on my own. I will be able to do this by practicing the LEAN principles Boston O&P already has in place. In addition, Boston O&P has an expertise with scoliosis that is second to none, which I always admired and wanted to be a part of. Partnering with Boston O&P was a great decision and the company could not have been more warm and receptive.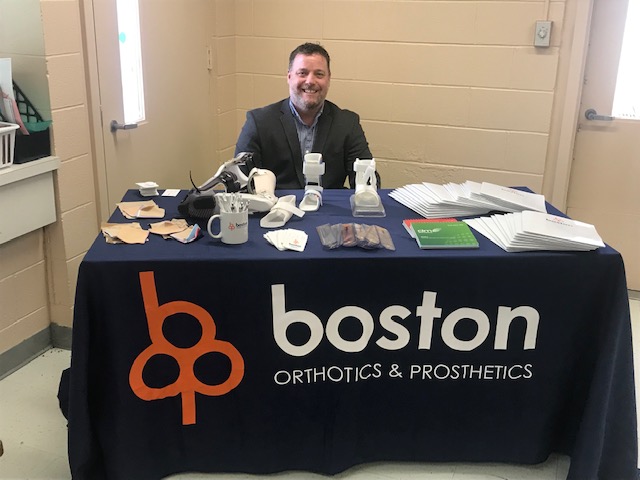 What clinical expertise or experience do you think is most important in your interactions with patients at Boston O&P?
There is no one answer to that. Being prepared with equal amounts of clinical skills and technical skills is first and foremost. It's one thing to read and understand concepts and master technical skills, but keeping up with the ever-changing information and products is a whole other ball game. Avoiding improving one's self, knowledge and skill is choosing extinction in this field and the patient is the one who really suffers.
---