What Makes the Boston Brace 3D® the Best Brace for Scoliosis, According to a Top Orthotist
Posted on
As the residency director for the prosthetics and orthotics department at Shriners Hospital for Children in Portland, Oregon, Todd DeWees, CPO does "a little bit of everything," spending about half his time in prosthetics, one-quarter in spinal, and one-quarter in everything else.
He was introduced to the traditional Boston Brace as the "gold standard" for scoliosis bracing when he was attending school more than a dozen years ago, and after graduation he typically fitted between 70 and 100 Boston Braces every year.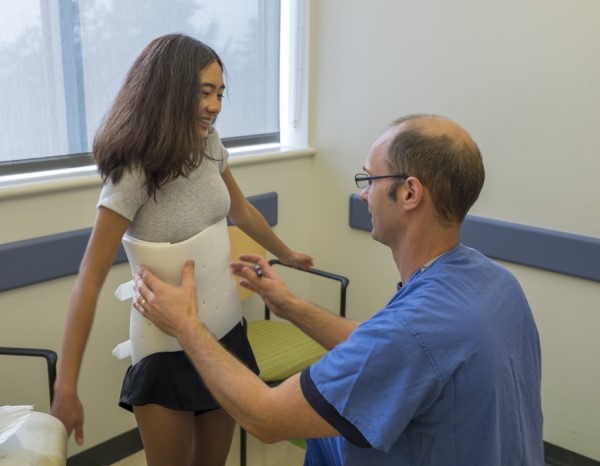 Two years ago, all that changed. DeWees was talking to Jim Wynne, Boston O&P Vice President and Director of Training and Education, about trying an alternative to the Boston Brace. Wynne told DeWees he had something in the works, and a few months later he invited DeWees to Boston to preview the new Boston Brace 3D®. DeWees was sold.
"The Boston Brace 3D has become my go-to brace," DeWees said. "A traditional Boston Brace is the gold standard, but it has some drawbacks. It can be tight, it takes a long time to fit one right, compliance was hard to get out of the kids, and it was taking them a long time to get used to wearing it."
With the Boston Brace 3D, DeWees has seen better compliance and outcomes, as well as significantly reduced fitting time.
While he usually starts new scoliosis patients with the Boston Brace 3D, about a dozen of his patients transitioned from the original Boston Brace to the 3D.
"I had one patient who was very particular," said DeWees. "Fittings were never less than 3 hours. When we switched to the Boston Brace 3D, fittings only took 45 minutes. The stress reduction for the patient and the family was huge, and her compliance went up because she wasn't fighting the brace."
The difference, said DeWees, is that the Boston Brace 3D takes advantage of all three planes of correction. "The traditional Boston Brace worked in two planes and kind of the third, but with the 3D we are really getting a lot of correction in the transverse plane, so we don't have to use the pressures that we did in the traditional. It allows us to correct the spinal curve the way it needs to be treated—three-dimensionally."
When it comes to daytime bracing, the Boston Brace 3D isn't just his number one choice, it's his only choice. When asked if he ever uses Rigo Cheneau braces, DeWees has a clear answer. "We don't use Cheneau braces, because no one can really tell you what a Cheneau is—there is no standardization on how to fit them and how to utilize the corrective forces. Until you can give me a standard for what our corrective goals are, I can't use the system."
---