What to Expect When You Start Your Scoliosis Bracing Journey
Posted on
If you're reading this, you or a child you know has probably been diagnosed with scoliosis, and your doctor has recommended bracing as an effective course of treatment.
We know a scoliosis diagnosis is not welcome news. Our clinicians understand that and work every day to make your journey as positive as possible. There is some good news, however, and that is that wearing a Boston Brace Original, Boston Brace 3D®, or another scoliosis brace from Boston Orthotics & Prosthetics can provide excellent spinal curve correction in scoliosis patients. Most patients who wear their brace as instructed see a greater than 50% correction of the primary curve.
As you begin your scoliosis journey, you probably have a lot of questions and concerns, and we are here to help. At Boston Orthotics & Prosthetics, we treat hundreds of patients for scoliosis every year, and we know that the experience and the outcome are always better when patients and families are well-informed about what the process will involve. Here's what you can expect throughout the bracing process.
Measurement & Fitting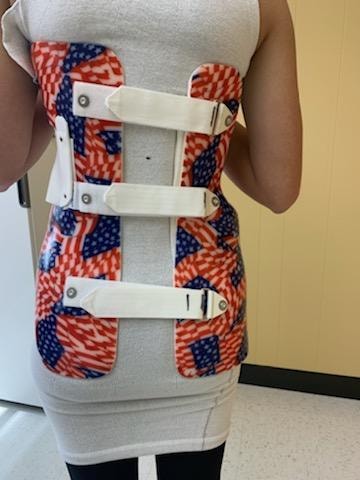 Boston O&P uses scanning technology to capture your shape. CAD/CAM software is then used to create a three-dimensional digital model of the patient's body, which is used to custom make a scoliosis brace to fit the patient. That means patients do not have to go through the time-consuming casting process, and they get a more comfortable, better-fitting brace.
Once the brace is ready (usually about two weeks after the measurement), the patient will come in to meet with the clinician and try on the brace. While the brace has been designed to fit perfectly, we still may need to make some adjustments to ensure it is as comfortable as possible. When you try on the brace, please be as honest as possible about how it feels. If it is rubbing your skin in places or is uncomfortable in any way, let your clinician know and they will do everything they can to make the brace more comfortable.
Of course, wearing the brace is an adjustment and may involve some getting used to, but your clinician will be able to explain the difference between "good" pressure, the steady pressure that shows the brace is working, and "bad" pressure, which can be remedied with minor adjustments to the padding and the brace.
Your clinician will provide important information on your prescribed wear schedule, how to take care of the skin, and working with your physical therapist on exercises you will need to do.
Wearing the Brace
Once you have your properly fitted brace, you will go through a gradual breaking-in period to get used to wearing it. You'll start by wearing the brace for 1-2 hours at a time for a total of 6-8 hours per day, increasing the wear time over a period of three weeks, at which point you will be wearing the brace for the prescribed number of hours per day.
Many scoliosis patients have initial concerns about how to dress to either hide the brace or to make themselves more comfortable. To help with this, patients may order a Boston T, an extra-long, form-fitting T-shirt designed to go under the brace.
The Boston T comes in two versions—both are made of a CoolMAX/Lycra material that is antibacterial, wicks away sweat, provides cushioning, and will stretch more than 150% to ensure a wrinkle-free fit under the brace. The Boston Silver T also includes X-static pure silver fiber, which eliminates odor-causing bacteria and fungus, prevents static, and stays cool in the summer and warm in the winter. Learn more about the Boston T.
Sports, Activities, and Wear Time
Most scoliosis patients can continue to participate in sports and physical activity during bracing treatment. Your physician will let you know of there are any restrictions. The brace can be removed for these activities as long as the patient complies with the overall wear schedule. In order to get the best results and prevent the curve from worsening, it is very important to wear the brace for the recommended amount of time. If you are having difficulty wearing the brace for the recommended amount of time, please contact your clinician.
Dressing with a Scoliosis Brace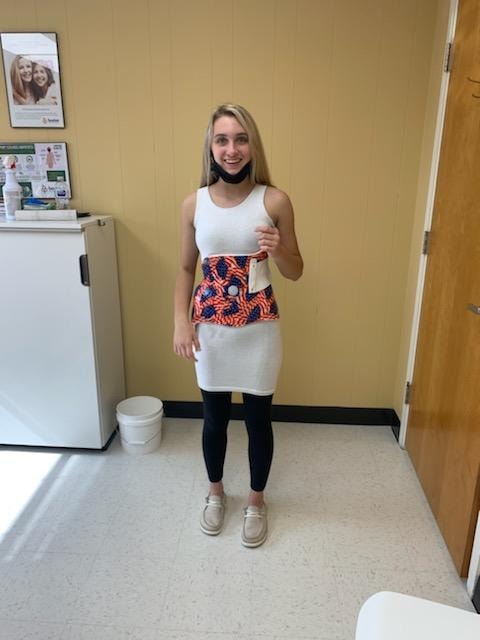 In a survey conducted by Boston O&P, in which almost 100 girls provided their thoughts and tips on how to dress comfortably and fashionably while wearing a scoliosis brace, 75% of respondents said they prefer to wear the brace under their clothes, while 20% said it depends on what they are wearing and the activity they may be involved in.
A "sporty" style of dressing was preferred by 70% of respondents, including sweatshirts and leggings. Others recommended long-sleeved T-shirts and yoga pants, flowy shirts over leggings, tank tops under a leather jacket, or even PJs (perfect for remote classes).
While most girls prefer to wear the brace under their clothes, others opt to let it show. "I have a style that I've grown into over time," says 13-year-old Mia DeHarpart, who was diagnosed with a 37 degree curve and is now wearing a Boston Brace 3D. "I've always been a confident person and I tell other girls not to be insecure about their braces. Don't be afraid to show it off! It's a great conversation starter, and it makes you beautiful because you're different."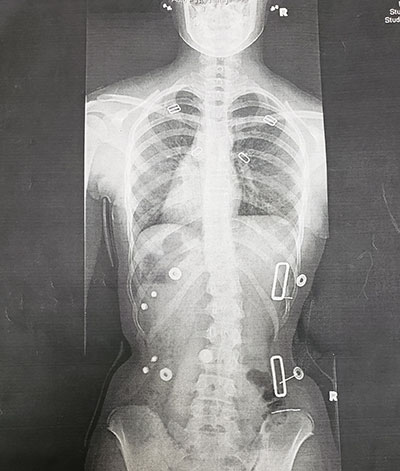 Seeing the Positive
While dealing with scoliosis can be a challenge, many girls see bracing as anything but a negative. "In the end I'm going to meet a lot of good people and make a lot of new friends, so I think it's actually going to be very positive experience," says Mia.
Some of those good people include members of the scoliosis support groups Mia belongs to, as well as her Boston O&P clinician, Barb Brengle, who saw Mia at the Boston O&P clinic at Cardinal Glennon Hospital in St. Louis. "That woman is phenomenal," says Mia's mom, Leslie Betts. "She is so caring and made Mia feel so comfortable; she is just a woman on a mission to help young girls feel empowered."
Mia had never heard of scoliosis until a few years ago, all she knew was that she was in constant pain. Now, fitted with a Boston Brace 3D that is already showing a remarkable in-brace correction, she is ready for anything. For girls who are just starting their scoliosis journeys, Mia has some clear advice: "Don't let it stop you from doing everything that you want to do," she says. "Keep trying for your goals, because scoliosis shouldn't stop your dreams from happening. No disability should."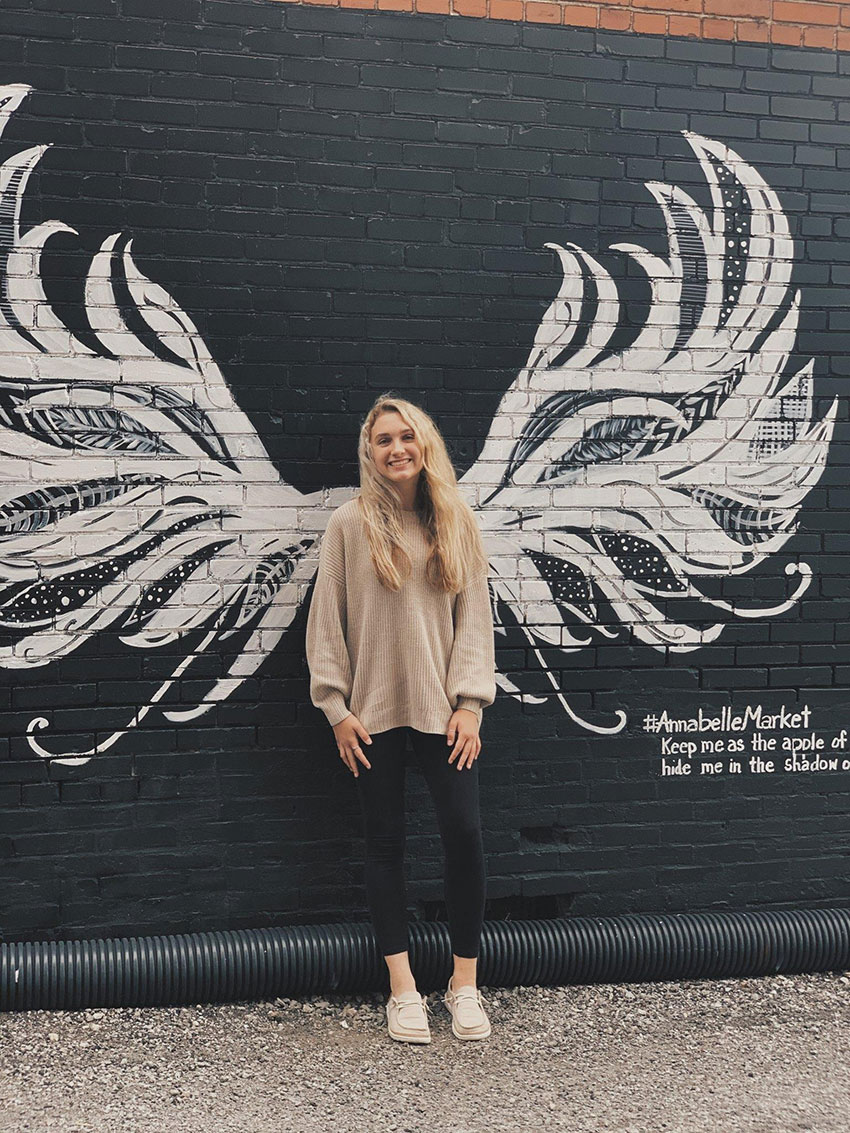 Scoliosis Resources for Parents & Patients
If you need more information about scoliosis and bracing, here are some helpful links:
---