Reciprocating Gait Orthoses (RGOs)
A reciprocating gait orthosis (RGO) is a full-body orthotic device that consists of a hip-knee-ankle-foot orthosis (HKAFO), a custom-molded pelvic girdle and a thoracic extension.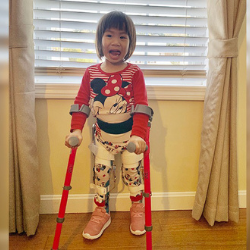 An RGO can be used to treat people with paralysis due to spinal cord injury or other neurological diseases including spina bifida.
An RGO can enable patients with lower-body weakness or paralysis to stand upright unassisted and walk with the help of crutches or a walker. The KAFO section immobilizes the knees and ankles to allow the patient to balance the body in a standing position while the RGO section allows hip motion and pelvic rotation that imitates a functional walking gait.
Boston Orthotics & Prosthetics fabricates its Boston RGO using a premade reciprocating hip joint from another manufacturer, which is attached to a KAFO and custom-built truck/pelvic section fabricated by Boston O&P.