A History of Innovative Support
Boston O&P Through the Years
1970: Boston Brace is founded by M.E. "Bill" Miller
1972: Bill Miller accepts a position providing orthotics and prosthetics services at Children's Hospital of Boston (now Boston Children's Hospital).
1975: Along with Dr. John Hall, the Chief of Clinical Orthopedics at Boston Children's Hospital, Bill Miller designs and patents the Boston Brace system for the non-operative treatment of scoliosis.
2005: Boston Brace implements Lean manufacturing practices on its production floor with help from the Greater Boston Manufacturing Partnership (GBMP).
2006: Tom Morrissey is named President and CEO of Boston Brace.
2011: A study shows the long-term effectiveness of treatment with the Boston Brace
2014: Boston Brace is awarded a Massachusetts Workforce Training Grant to extend its LEAN practices to its customer service representatives and clinicians.
2017: Boston Brace launches the Boston Brace 3D®, which features an improved brace design that is custom-fabricated using CAD/CAM technology.
2017: Boston Brace and NOPCO Clinics become Boston Orthotics & Prosthetics.
2017: Bill Miller

posthumously

awarded,

World Congress Inventor Award

, by AOPA (

American Orthotic & Prosthetic Association)

, for the invention of the Boston Brace,

the first thermoplastic bracing system for the non-operative treatment of scoliosis.

2018: Boston Orthotics & Prosthetics is chosen as Manufacturer of the Year for their region of Massachusetts by the Massachusetts Joint Legislative Manufacturing Caucus.
2021: Boston Orthotics & Prosthetics opens its first clinic just outside of Columbus, OH to treat patients of Nationwide Children's Hospital. Nationwide one of the largest pediatric hospitals and research institutes in the United States and a top ten hospital for orthopedics according to the U.S. News & World Report rankings.
2022: Boston O&P opens its first clinic in Connecticut, just outside of New Haven, in Orange. This clinic will support Yale New Haven Hospital and other pediatric specialists in the area.
Boston O&P Today: Continuing to Lead the Way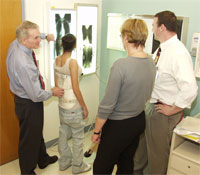 Boston O&P continues to be a leading provider of orthotic bracing. We maintain a network of educational support with affiliated patient care clinics located in world class medical facilities, including Boston Children's Hospital and Children's Hospital of Philadelphia. Working closely with such diverse and progressive educational institutions allows Boston O&P to continuously test, streamline, and improve its products and processes for customers, partners, and patients.
With a specialization in pediatric orthotic management, we continue to drive advancements in technology for the management of scoliosis, plagiocephaly, and various neuromuscular disorders.
As a leader in specialized orthotics, Boston O&P has taken great pride in the training and development of the industry's top clinicians, technicians, and administrative staff. Our dedication on this front can be clearly seen through the skills, expertise, and enthusiasm of our education team, as well as the advancements in technology and treatment techniques that we carefully select, test, and bring forth to the industry.
We take our role in advancing the orthotics and prosthetics profession seriously. We make sure that we are teamed up with only the best internal and external resources to help move forward and maintain our high standards of service to our partners and patients.