A History of Innovative Support
Boston Brace was founded by M.E. "Bill" Miller in 1970. A talented and dynamic professional, Bill was working to build a successful orthotics and prosthetics patient care facility in Indianapolis, Indiana when he was asked to provide all orthotics and prosthetics services for the Children's Hospital of Boston. Bill accepted the invitation and began a new chapter of his professional career that would lead to the creation of Boston Brace, which is now Boston Orthotics & Prosthetics.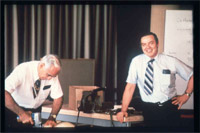 Because Children's Hospital of Boston (now Boston Children's Hospital) was also a teaching hospital for the Harvard Medical School, Bill was afforded a unique opportunity to research and develop new orthotics and prosthetics products and work alongside some of the world's most innovative staff physicians and professors.
Bill rose to the challenges that these professionals set forth and in 1975, he successfully designed and patented a revolutionary thermoplastic bracing system for the non-operative treatment of scoliosis. The Boston Scoliosis Brace is used throughout the world today and continues to be the gold standard for surgical alternatives. Boston Brace was formed as a custom fabrication facility for the Boston Brace, and for research and development which has lead to other successful bracing products.
Continuing to Lead the Way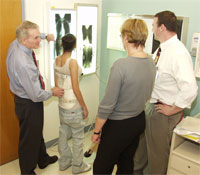 Boston O&P continues to be a leading provider of orthotic bracing. We maintain a network of educational support with affiliated patient care clinics located in world class medical facilities, including Boston Children's Hospital and Children's Hospital of Philadelphia. Working closely with such diverse and progressive educational institutions allows Boston O&P to continuously test, streamline, and improve its products and processes for customers, partners, and patients.
With a specialization in pediatric orthotic management, we continue to drive advancements in technology for the management of scoliosis, plagiocephaly, and various neuromuscular disorders.
As a leader in specialized orthotics, Boston O&P has taken great pride in the training and development of the industry's top clinicians, technicians, and administrative staff. Our dedication on this front can be clearly seen through the skills, expertise, and enthusiasm of our education team, as well as the advancements in technology and treatment techniques that we carefully select, test, and bring forth to the industry.
We take our role in advancing the orthotics and prosthetics profession seriously. We make sure that we are teamed up with only the best internal and external resources to help move forward and maintain our high standards of service to our partners and patients.