Bill Miller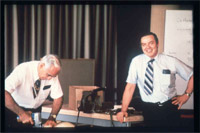 M.E. "Bill" Miller (1927–1992) founded Boston Brace in 1970. A talented and dynamic professional, Bill was working to build a successful orthotics and prosthetics patient care facility in Indianapolis, Indiana when he was asked to provide all orthotics and prosthetics services for the Children's Hospital of Boston. Bill accepted the invitation and began a new chapter of his professional career that would lead to the creation of Boston Brace International, which is now Boston Orthotics & Prosthetics.
Because Children's Hospital of Boston (now Boston Children's Hospital) was also a teaching hospital for the Harvard Medical School, Bill was afforded a unique opportunity to research and develop new orthotics and prosthetics products and work alongside some of the world's most innovative staff physicians and professors.
Bill rose to the challenges that these professionals set forth and in 1975, he successfully designed and patented a revolutionary thermoplastic bracing system for the non-operative treatment of scoliosis. The Boston Scoliosis Brace is used throughout the world today and continues to be the gold standard for non-surgical management of idiopathic scoliosis.
In recognition of Miller's important contribution to the O&P field, the American Orthotic & Prosthetic Association posthumously awarded Miller with the 2017 AOPA World Congress Inventor Award for his work developing and educating the O&P profession on the Boston Brace system.