Scoliosis & Spine
Boston Orthotics & Prosthetics is the leading provider of products and care for the treatment of scoliosis and other spinal conditions. Almost 50 years ago our founder, Bill Miller, designed and patented a revolutionary thermoplastic bracing system for the non-operative treatment of scoliosis. The Boston Brace, a custom-made back brace for scoliosis, has been the gold standard for surgical alternatives ever since.
The Boston Brace 3D is the latest evolution of the Boston Brace System. To ensure maximal curve correction, the Boston Brace 3D is custom-fabricated for each individual patient using a digital laser scan and precise measurements to create a 3D CAD/CAM model. > Read More
---
The lightweight Boston Brace Original is the most studied and utilized scoliosis brace in the market, and is considered the premier system for the non-operative treatment of scoliosis and kyphosis. Clinically proven to control curve progression, the Boston Brace Original is available in custom-made and off-the-shelf versions. Available models include Lumbar, Thoracic, or Thoraco/Lumbar. All Boston Braces may be lined, partially lined, or unlined. Standard brace comes with a posterior opening because this option typically delivers the best results. > Read More
---
Designed to immobilize the thoracic and lumbar spine after trauma or surgery, the Boston Body Jacket improves stability and promotes healing, which can help encourage shorter hospital stays. Available finished or unfinished, and custom or standard module sizes. > Read More
---
Boston Overlap Brace (BOB) has been clinically proven effective in the treatment of spinal conditions such as spondylolysis and spondylolisthesis and was the first brace to use the anterior overlap design, which allows the patient to adjust the brace for comfort. > Read More
The Boston Soft Spinal Orthosis (SSO) is designed to provide sitting and standing posture support to patients with neuromuscular scoliosis or neuromuscular disease presenting with low tone. The versatility and comfort of this brace makes it ideal for treating many types of trunk instability.
> Read More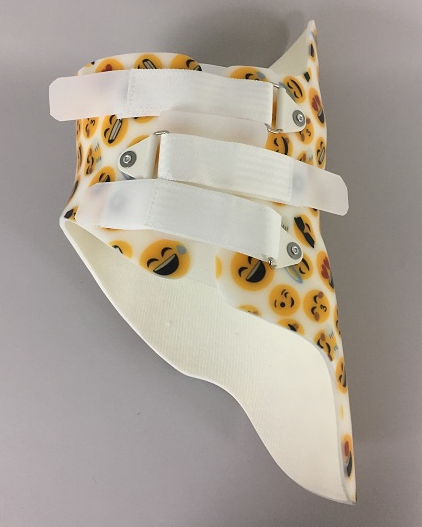 The Boston Night Shift brace aims to achieve maximum curve correction with minimal discomfort. Instead of de-rotation forces, the Boston Night Shift brace applies direct, opposing forces to straighten curves. This type of scoliosis bracing has gained in popularity because of its effectiveness in treating scoliosis during sleeping hours. Having to wear a scoliosis brace all day can be tough for young teens, by having the night time option the ease of compliance becomes greater.