CAD/CAM Technology
For far too long, the orthotics and prosthetic industry has half-heartedly tried to utilize CAD/CAM technology. The reasons for this are simple. All existing CAD/CAM technologies have severe limitations such as: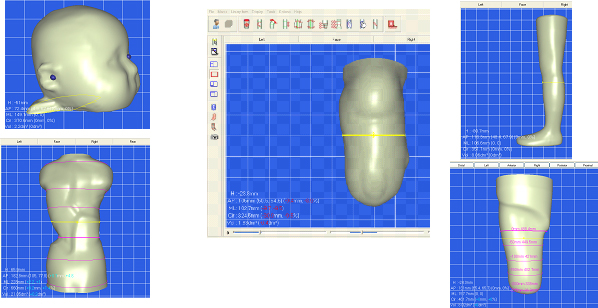 Only being able to scan (capture the image) certain areas of the body, unable to scan lower limb effectively
It is hard to scan due to need of applying registration points


These registration points are consumable and cost money

MS-DOS operating systems/too complicated to understand and use
Different "modules" required for modifying different body segments
People look at scanning as a "cost" instead of a "profit center"
Our partnership with Rodin4D (Le Haillan, France) has eliminated these issues. Our system can do it all, with the same tools and no added costs. We pride ourselves in providing our customers with all the tools, electronic and physical, so you are prepared to use your CAD/CAM system for any orthotic and prosthetic application on day one. We don't play games with file formats either. Our platform is totally open with file formats acceptable by nearly all major manufacturers. Whereas we would like your manufacturing business, that decision is up to you.
By the way, we help you turn your scanner from the dreaded and perceived "cost" into a profit center. No one else does this!
The Rodin4D CAD/CAM system is easily transportable and by the way, we provide you with those tools as well. Also feel free to peruse CAD/CAM benefits on the For Patients and For Providers pages.
If you would like to learn more about the benefits of the Rodin4D system, please visit the website at www.rodin4D.com, or contact Jamie Benelli jbenelli@bostonoandp.com