Catherine Falcone, CPO
Certified Prosthetist Orthotist, Clinic Director, Clinical Onboarding Director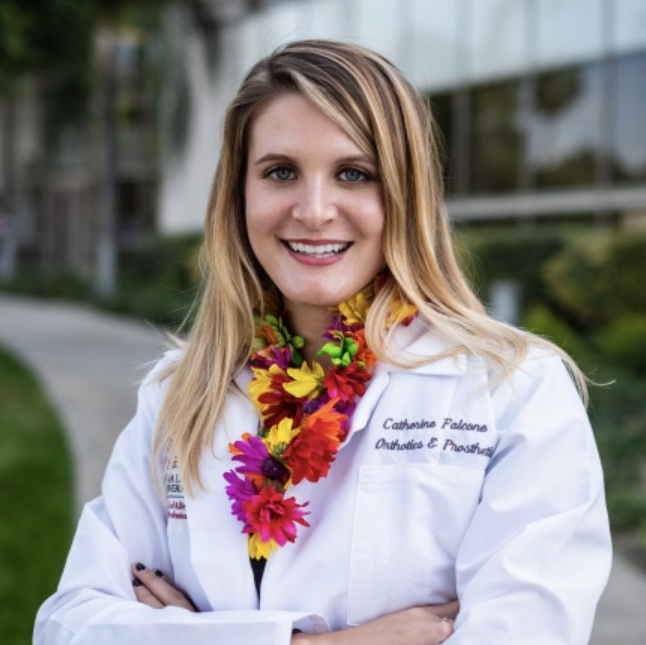 Specialty
Pediatric Orthotics and Prosthetics

Adolescent Idiopathic Scoliosis (

AIS)
Join our Facebook Scoliosis Support Group
Education, Certification, Memberships
Loma Linda University, MS in Prosthetics and Orthotics 2018
Keene State University, BS in Athletic Training 2014
Philosophy: I developed a strong passion for pediatrics while shadowing during my graduate work in the pediatric unit at SCOPe. Pediatric patients are unique because they are still growing; structurally, functionally and emotionally. It is important to identify the complete family needs and their shared responsibility so they feel they are an integral part of the situation, as well as giving them a sense of family empowerment. Ultimately, it is my personal and professional goal to provide the best possible care for my pediatric orthotic and prosthetic patients.
Bio: As an undergraduate in the Athletic Training Program, I did my internship with Michael and Frances Kiser at Kiser's Orthotic and Prosthetic Service Inc., in Keene, NH. Being enamored with the work, I chose to stay after graduation. This allowed me to see a variety of patient interactions, as well as a lot of lab time, as they do all of their prosthetic fabrication in-house. Through their tutelage, encouragement, and guidance, my passion truly took hold and I knew I wanted to pursue a career in the field of orthotics and prosthetics; thus entering the Masters in Orthotics and Prosthetics program at Loma Linda University.
Humbling Moment: I learned a lot about hard work and perseverance when I went on a mission trip to Guatemala with ROMP, a non-profit healthcare organization that is dedicated to providing prosthetic and orthotic care to those without typical access to these services. This was one of the most humbling experiences in my life and one of the most difficult. We had only four days to cast, modify, fabricate and deliver prosthesis. Within this time frame, I successfully produced four transfemoral prosthesis. It was one of the most accomplished and satisfying feelings in the world. It truly secured my love and passion for working in the orthotics and prosthetics field.
Read about Catherine Falcone, CPO in our blog