Boston Orthotics & Prosthetics is proud to have been a part of the American Orthotic and Prosthetic Association (AOPA) meeting in Vancouver, September 26-29.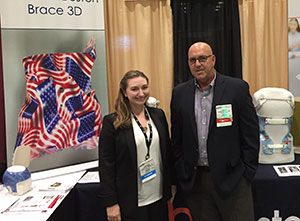 Hundreds of orthotic, prosthetic and pedorthic professionals attended the 101st Annual Assembly to gain insight into current and future research in the field, learn about the latest technology developments, explore the more than 100 exhibitions, and network with their peers.
Our Director of Education, James Wynne, CPO, and Director of Sales, Jamie Benelli, CPO, were on hand at the Boston O&P booth to demonstrate the features of all of our products, including the Boston Brace Night Shift, Boston Brace RC, and Boston Brace 3D®, which is the latest innovation in the non-operative treatment of idiopathic scoliosis.
"Discussing Boston O&P outcomes with customers is always refreshing," said Benelli. "The outcomes our clinics and customers experience are second to none in the industry. It's very rewarding seeing the positive impact we have on so many kids."
In the Boston Brace 3D, our clinical experts have combined knowledge of the three-dimensional scoliosis curvature with the latest in shape capture and CAD/CAM technologies to create an enhanced brace design that uses a unique shift/push combination of corrective forces to delivers better outcomes.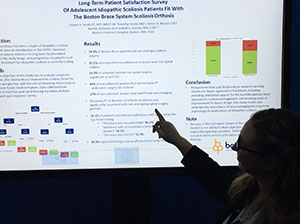 In addition to showcasing Boston O&P's wide range of product offerings at our booth, Lauren Houle, MSOP, DPT, PT, an Orthotic/Prosthetic Resident with Boston O&P, also presented a Long-Term Patient Satisfaction Survey of Adolescent Idiopathic Scoliosis Patients Fit with a Boston Brace Orthosis.
"We were thrilled with the response to Lauren's poster presentation on long-term outcomes," said Wynne, "The study confirms that our bracing works."
---