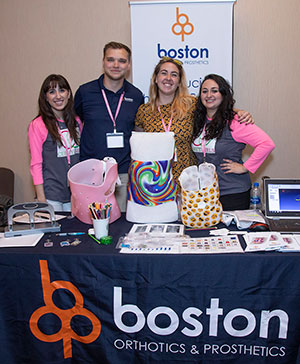 Boston Orthotics & Prosthetics commemorated National Scoliosis Awareness Month in June with several initiatives designed to raise awareness of the condition and offer support to those with scoliosis.
Boston O&P's We've Got Your Back campaign included decorating its clinics with the signature Scoliosis Awareness green ribbon and giving every patient with a scoliosis appointment during the month of June a free Scoliosis Awareness bracelet.
Boston O&P also attended the Curvy Girls Convention July 8-10 in Long Island, NY, where team members made a presentation, attended workshops and a fashion show, and spoke to scoliosis patients and their families about several scoliosis-related topics, including treatment, outcomes, and the difference between the classic Boston Brace and the Boston Brace 3D®.
As the leading provider of products and care for the treatment of scoliosis, Boston O&P was both a sponsor and an exhibitor at the event, and generated a lot of buzz about the Boston Brace 3D, which was on display at their exhibit table.
According to Steve Slawinski, CO, Clinic Director of Voorhees, who attended the event, the Boston O&P table was one of the most popular with attendees thanks to the design-your-own shrinky dink scoliosis keychains. "All the girls and the parents loved them," he said.
To further demonstrate its commitment to not only the physical treatment but also the emotional support of scoliosis patients, Boston O&P made a $5,000 donation to Curvy Girls to help in their mission to provide support and resources to teenage girls with scoliosis.
---