Boston Orthotics & Prosthetics partnered with Curvy Girls, an international support group for girls with scoliosis, to develop a "What to Wear" survey for girls who wear a brace for scoliosis.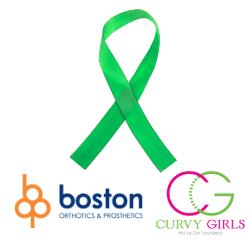 The survey was distributed to members of Curvy Girls to help Boston O&P gain valuable insights on how to dress comfortably and fashionably while wearing a brace.
"We get a lot of questions on what to wear with a scoliosis brace, especially from new brace wearers, both in our clinics and in online support groups," said Mike Nemetz, Chief Marketing Officer at Boston O&P. "Our clinicians can always provide suggestions, but we thought it would be more valuable for the girls to get advice from their peers who actually have experience with the issue."
"When I was first diagnosed, I didn't know anyone else who wore a brace or had scoliosis, much less anyone with advice for how to dress to be comfortable and still feel stylish," said Curvy Girls Founder Leah Stoltz. "With the What to Wear survey, we hope to provide valuable tips and information to girls wearing scoliosis braces. Curvy Girls is grateful to Boston O&P for recognizing the need and caring so much about their patients."
Throughout June, which is Scoliosis Awareness Month, Boston O&P will share tips, guidance, and helpful information gained from survey responses.
Please note: To maintain the confidentiality of the survey respondents, all social posts, graphics, etc. related to this survey will use stock photography rather than photos of respondents.
---