Patient Experience Survey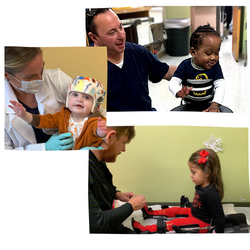 At Boston O&P, our goal is to continuously improve the patient experience by listening to our patients and incorporating their feedback into ongoing adjustments and improvements. Every week, a patient experience survey is emailed to all patients who were fitted with an orthosis or prosthesis at an appointment during the previous week. Recipients are asked to rate Boston O&P in six categories. Results of the patient experience survey are published in our employee newsletter, and we follow up with anyone who reports a sub-optimal experience to get more details and see how we can improve.
Below is a selection of comments we have received from patients and families.
---
"Karen is a phenomenal orthotist. She makes my son feel very comfortable during his visits and breaks things down for him in a very kid-friendly way. She is clear with her advice and overall shows a high level of professionalism." (11/6/2021)
---
"The staff were great and so helpful. We think Skip is great! " (11/1/2021)
---
"Matt is amazing. He not only takes the time to explain everything, but makes sure everything fits properly. " (11/1/2021)
---
"Great experience!! Everyone is very friendly. Insurance benefits were explained and everyone was helpful. Great customer service. Highly recommend!!" (10/11/2021)
---
"Excellent experience overall and product is well made." (10/6/2021)
---
"Although we will miss Rusty Miller in the Longwood clinic in downtown Boston (we've been seeing him since January 2018), Nick Grigorieff was a pleasure to work with. Our daughter was diagnosed with scoliosis in late 2017 and although 95% corrected to date, Dr. John Emans at Boston Children's Orthotics, thought it was a good idea to have our daughter wear one more brace, her fourth, while she goes through her last growth spurt. Nick measured and fitted her recently for that brace in Worcester. If we have any concerns and/or questions, Nick will be there for us and with only half the drive into Boston. That part is especially nice. We have had nothing but a positive experience with everyone at Boston O&P over the years. Thank you!!" (7/31/2021)
---
"The AFO was for our daughter. Judith was a pleasure to work with. She made good suggestions and understood the urgency of the situation we found ourselves in. Overall, since insurance covered everything, getting an AFO for the first time after four years without it, was a positive experience." (7/28/2021)
---
"Hector Paez is awesome. He is personable, professional, always on time and the braces are consistently excellent." (7/24/2021)
---
"Rodney was amazing. He was courteous and thorough, and we had my son's new orthotics quickly. It was a great experience all around." (7/23/2021)
— Rodney Wilkinson
---
"The process was handled professionally and courteously, in a timely and respectful manner. Our 13 year old needed a brace and the doctor was fantastic, explaining everything and giving workable options." (7/15/2021)
---
"The team at the East Brunswick, NJ office is an excellent group. Great customer service and educated our family on the brace for our daughter. Thank you to that team." (7/13/2021)
---
"Everyone I dealt with was extremely helpful and so friendly. Ebony contacted me about billing and was very thorough. Mike measured and fitted my daughter for her brace and was very nice and patient with her. This was helpful because she can be very shy and anxious." (7/10/2021)
---
"Steve is one of the most caring and knowledgeable professionals. He is the best and takes so much time making sure our son is comfortable and we know what we are doing with his DMO." (7/3/2021)
---
"The staff is amazing. We have worked with the same staff member twice now and she is kind, caring, and takes her time to ensure proper comfort and fit. We will continue to use the Longwood location. Thank you!" (6/26/2021)
---
"Brad Varney has been taking care of my son's orthotic needs for almost ten years. He always works to find the best solutions for my son." (6/14/2021)
---
"My daughter received her new brace a few weeks ago and we couldn't be more happy with the care and attention we received! We love working with all of the staff here!" (6/9/2021)
---
"My 14 year old daughter was treated as a young adult, she received excellent communication skills, knowledge, and bedside manner. Overall, excellent experience with your staff in Weymouth. Thank you to each and every one of them job well done, we will definitely return if needed in the future!" (5/29/2021)
---
"During the measurement process Brad told us the pick-up brace appointment would be two hours. Although, who wants to do a two hour appointment with a 16 month old, having the heads up was great! We packed extra snacks, toys, and other fun things to last the wait time as Brad made the necessary modifications to the brace. We were there as long as needed and left with a well fitted brace. Brad made a follow up appointment for one week out for any adjustments needed. the whole team at Peabody's O and P is kind, respectful and knowledgeable." (5/27/2021)
---
"I don't even know where to begin. Kaitlin Rivest has been amazing to work with at Boston O&P! She has gone out of her way to help us get adjusted to my daughter's back brace. She was extremely nice, knowledgeable, and professional when we first had our first appointment with her. Once we got home and the reality of the brace sank in, we had some issues. I emailed Kaitlin and she got right back to me and continued to email me with helpful suggestions until she eased my mind. She even arranged for me to exchange my daughters tank tops with the office closer to my home. Our 2nd visit was just as good as the first. She was very reassuring and eased my daughters mind when it came to wearing the brace and the length of time we'd have it. Overall our experience was amazing because of Kaitlin. I can't say enough about her!!" (5/21/2021)
---
"The staff was beyond accommodating and caring. We can never speak highly enough of them since we lived so far away." (5/12/2021)
---
"The staff was beyond accomodating and caring. We can never speak highly enough of them since we lived so far away." (5/12/2021)
---
"Provider Shawn Koehler and Ayla (front desk) were so welcoming, warm, helpful, courteous and most important, made my daughter feel relaxed and unafraid about this big transformation that was taking place because of having scoliosis. I will keep coming back to Boston O&P in Annapolis, well, hopefully not forever. The whole office is a great team of people. I love Shawn's bedside manner and his ethic of helping to teach these young ones to take responsibility of their medical condition, that it is a team effort. They are awesome!" (5/6/2021)
---
"Michelle was great!!! She interacted so well with my son. He really liked and took to her, which doesn't happen often. She displays genuine care for her patient and is informative. I'm happy we chose her!" (5/2/2021)
---
"Judith and Stephanie were terrific, always a pleasure to work with and so very accomodating!" (4/28/2021)
---
"Kaitlin Rivest went above and beyond to make my daughter feel comfortable in the uncomfortable circumstance. She has been very supportive still through email and I'm so thankful for her." (4/22/2021)
---
"Boston O&P of Philadelphia is the place to go to. We are extremely satisfied with the specialist as well as the scheduler. Everyone was very professional and helpful. We were thoroughly explained of how the product worked and we were assisted with the knowledgeable and friendly specialist. We would recommend them to everyone who needs custom fits for shoes, inserts or any needed help. Thank you Boston O&P for helping to solve my son's needs." (4/19/2021)
---
"Tom is always amazing. We have been with him for many years now and he is so patient with my daughter." (4/16/2021)
---
"We saw David Fine. He always goes above and beyond my expectations. He takes the time to make sure everything fits my daughter perfectly. He has made many braces for my daughter." (4/11/2021)
---
"This is my second time coming to Boston O&P of Annapolis. My third son wore a helmet and now my daughter is wearing one as well. We have had the best experience in the world with Boston O&P. They are so nice, friendly, and helpful." (4/8/2021)
---
"I always appreciate how staff (Sarah) takes the time to answer my questions especially regarding long-term prognosis and supporting the health of my child with her diagnosis. Sarah is patient, helpful, and thoroughly explains things." (4/2/2021)
---
"My daughter saw an Orthopedist at BCH, who ordered a back brace. Boston O&P was able to fit us in the same day. The staff was pleasant and informative. It was a positive experience." (3/29/2021)
---
"We were a last minute add on. It is off the shelf but for chronic condition. Laura, the orthotist, was very knowledgeable, kind and professional. Thank you." (3/22/2021)
---
"Michelle and Jennifer in Stony Brook are nothing less than AMAZING every time we go there! My daughter absolutely LOVES going to the orthotist, which is something I never thought I'd say as her DMO was definitely not her favorite thing. She now is excited to wear her "zoot suit" and looks forward to appointments with Michelle. They are super sweet and patient with my daughter and have built a wonderful rapport with my child." (3/20/2021)
---
"Chris in this office is amazing. He cares about the details. He wants to make my daughter as comfortable as possible." (3/18/2021)
---
"Michael Kitchen is wonderful to work with. He is so patient and understanding. He helped my daughter to understand the process of how to break in the brace and what to expect over the next few weeks. He was very adamant that if we had any questions at any time of the day, that we could email him and he would respond. I have already emailed twice - and even when he was out of the office - he responded within a short time! Can't say enough good things about him!" (3/15/2021)
---
"Mauricio is always very respectful and kind to my son who has been wearing the Boston brace for 5 years now (Scoliosis identified very young). His brace is as comfortable as it can be and making an appointment was easy." (3/12/2021)
---
"Matt was AMAZING! So great to work with. He made us feel comfortable and my daughter was at ease during the casting/trying on, etc. Quick and my daughter loves wearing them and being more stable." (3/12/2021)
---
"We love Art! He listens to my concerns about my son, he's taken the time to speak with doctors and different PTs over the years. He does everything he can to minimize the amount of times we need to come back to the office since we're an hour away." (3/11/2021)
---
"This was our first visit to Salem and the service was exceptional. We've only dealt with a couple orthotists in Waltham and Boston, but Stephen Beadoin was great to work with. He spoke to my daughter with respect. The receptionist was very friendly and kind. We are looking forward to working with this facility and staff again!" (3/10/2021)
---
"My sons experience at Boston O&P has been wonderful. The Stony Brook office is very accommodating and we felt safe. Staff is so patient with my son and most importantly I was given options and not told what I "should" do. I always received all the information with measurements via email afterwards. Highly recommend!" (3/4/2021)
---
"Aaron the Orthodics Assistant was very friendly and thorough in his work and explained how the brace worked. Overall, the appointment was quick and productive." (3/1/2021)
---
"Ksenia is terrific and the best orthotist in town. She does an excellent job of customizing my sons braces." (2/27/2021)
---
"We were very nervous and still a little shocked about my son needing a brace and how it would all work out. Michael Kitchen made us feel extremely comfortable. He gave us a warm welcome and explained every little detail regarding the brace. I had so many questions and he answered everything and even told us that if we had more questions or needed a refresher on everything regarding the brace to feel free to contact him. Thank you for everything. We are truly grateful." (2/23/2021)
---
"Tom Harrigan made us feel so at ease about the plagio helmet we needed for our 5 month old son. He explained everything to us in such great detail and helped us understand the process. We were anxious about our son having a helmet, Dr. Tom reaffirmed our decision by turning this into a positive and easy to navigate situation." (2/21/2021)
---
"Ksenia is great! She's so sweet and she made both appointments a fun experience for my 3 year old. I'd definitely recommend her!" (2/21/2021)
---
"Great team at the RVA location! Very thankful and impressed with their work!" (2/13/2021)
---
"Matt and the team at Boston O&P were a pleasure to work with. With the pandemic we are not seeing many new faces and they were wonderful with our toddler. She seemed comfortable and at ease in the office and while being treated. She is using her braces wonderfully and we are looking forward to working with Matt going forward." (2/6/2021)
---
"We love Michelle Y!!! She is always so kind, helpful, positive, warm, friendly, great with kids, and the list goes on!!! We consider ourselves to be so lucky to have her helping us. We are so grateful!" (2/3/2021)