Boston Band Cranial Helmet
The Boston Band cranial helmet was developed in conjunction with specialists in cranio-facial (plastic surgery) and pediatric neurology as a simple and effective solution to the problem of positional plagiocephaly and brachycephaly.
What is a Cranial Helmet?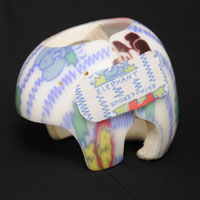 A cranial helmet, also called a cranial remolding orthosis (CRO), is a corrective helmet used for the treatment of deformational plagiocephaly or flat-head syndrome. The cranial helmet acts as a mold for the infant's head, restricting further asymmetric growth and guiding the flattened areas to grow into the empty space of the helmet in a normal, rounded fashion.
The Boston Band is a lightweight orthosis made from a cast impression or a 3D scan of the infant's head. It is made of a plastic shell lined with polyethylene foam that provides a pathway for the infant's head to grow into a more symmetrical shape.
Benefits of the Boston Band
The Boston Band technique was developed for one simple reason: we believed it was possible to build a better solution providing better results than existing options.
There are many other types of cranial remolding helmets available, but our experience was that they required a tremendous number of follow-up appointments and results were slow to achieve.
The Boston Band has proven results, with features including:
Above average patient results: on average, an infant with plagiocephaly requires just 10-14 weeks in the Boston Band compared to the 4-6 months advertised by other devices
Pre-cut void ensures continued relief over the flattened area between appointments
A unique, multi-layer foam system allows for easy adjustment as the infant grows
A unique, optional hinged opening that allows easy internal modification for clinicians and easy operation by parents
Treatment with the Boston Band
Because the head grows fastest early in life, the sooner helmet therapy begins, the faster the rate of correction. The treatment of plagiocephaly with a cranial remolding orthosis (CRO) should commence as early as possible (4-6 months is ideal).
Maximum improvement is achieved when started by 4-6 months of age, but good results are achieved within the first year of life. While improvement in cranial shape using a CRO has been documented in older patients, the rate of change will be slower and the degree of correction achieved smaller. In addition, our experience has been that older patients do not tolerate wearing the helmet as well as younger patients, making lengthy periods of helmeting challenging. For that reason, we recommend starting helmet therapy early.
Correction usually occurs within 10-14 weeks for patients beginning treatment between 4-6 months of age with mild to moderate asymmetry. In older patients, and patients with more sever deformity at the start of treatment, longer treatment time is necessary.
Availability
The Boston Band is available at all Boston O&P clinics as well as select orthotic centers across the country that are trained in the design, fit, and treatment techniques necessary for the highest level of patient care. Find a clinic.