Perfect Noggin
The Perfect Noggin is an alternative resting surface designed to promote round head shape with an adjustable, anatomically correct contoured surface to ensure that your infant's head stays round and symmetrical during the first 16 weeks of life. The Perfect Noggin is the most ergonomic and clinically effective sleep surface available to maintain a natural head shape in infants.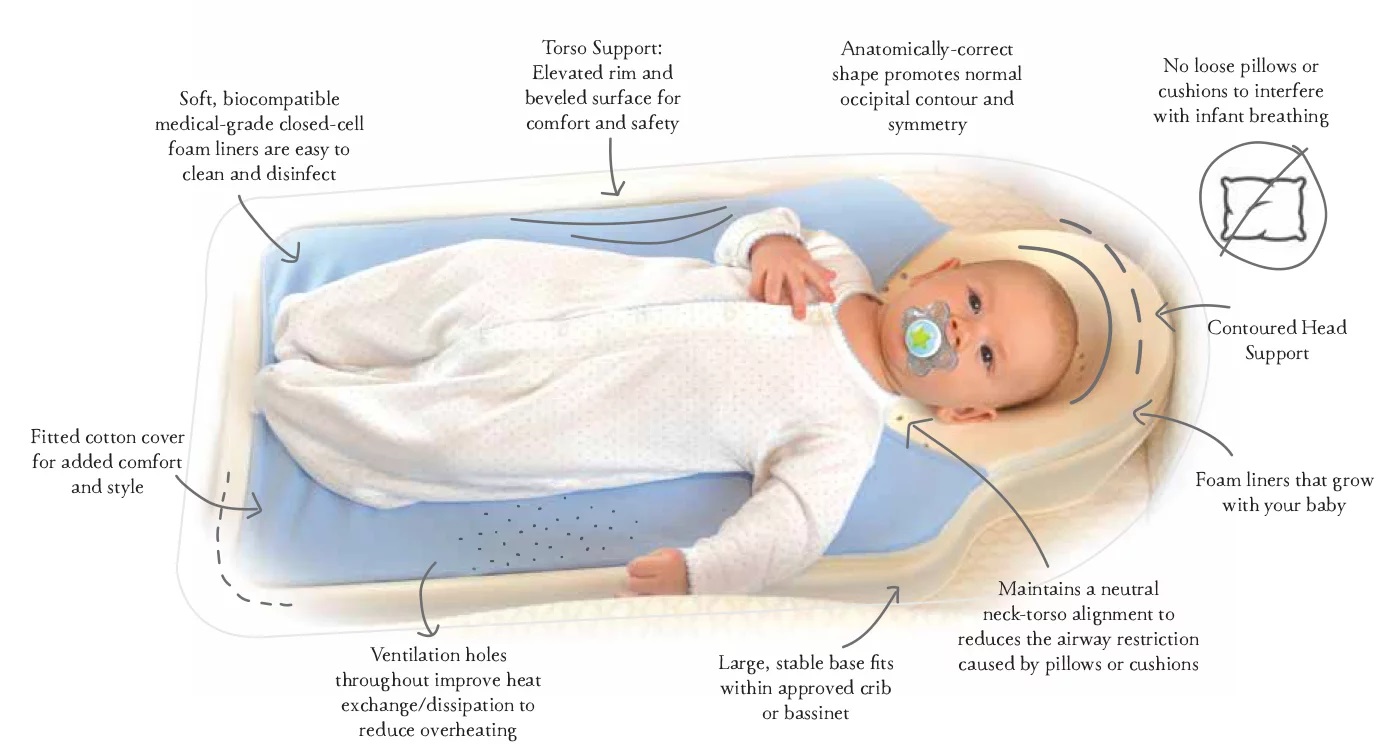 The Perfect Noggin was developed in 2006 (known then as the Plagio Cradle) to reduce many of the problems associated with conventional flat mattresses. Now in a new, more ergonomic iteration, the Perfect Noggin is a contoured surface that aligns the infant's head and torso in the best position for breathing, with a recess that cradles the back of the infant's head to help promote natural head shape and symmetry.
The Perfect Noggin can fit into a standard-sized crib or bassinet and supports the infant's entire body. It comes in five different sizes (1 through 5) to fit the child's head perfectly as they grow. The infant's head rests in a concave space allowing unrestricted occipital growth. The neck is supported in an anatomically correct position by a semi-circular shape in the foam layers.
The Perfect Noggin works best when started in the first two months of life. It is used for a minimum of 12 hours each day, or whenever the infant is supine. Once an infant is able to roll over, cradle therapy is discontinued. At this age, if needed, the patient is then able to begin helmeting as a means of correcting their cranial asymmetry.
Benefits of the Perfect Noggin
Adjustable: Patented foam liners fit head circumferences from 11-17.5 inches
Proven effectiveness: 5 published studies and 15 years of clinical success
Anatomically correct shape: Promotes a natural, symmetrical head shape
Stable, low profile design: No unsafe loose pillows or cushions
Safe and secure: Anti-slide edge to prevent sliding or scooting off the surface
Neutral head-torso alignment: Best airway position for breathing
Aerated surface: Ventilation holes for better air circulation and heat exchange than standard mattresses
Easy to clean and hypoallergenic: Soft, medical-grade foam liners with fitted, hand-sewn cotton cover
Easy to use: Simple measurement and sizing, fits inside standard sized crib or bassinet
Treatment with Cradling
Prevention and/or treatment using the Perfect Noggin, consists of the following steps:
Initial evaluation by a trained and licensed specialist in order to determine whether cranial asymmetry is present, or if the child is at risk of developing asymmetry
Primary evaluation, fitting, and cranial scan appointment, at which the orthotist will provide information concerning repositioning methods, cranial asymmetries and the cradle. Measurements and a 3D scan will be taken of the infant's head using infant-safe lasers and cameras
Follow-up appointments as necessary throughout the treatment period
Concluding appointment for discharge and final scan
Perfect Noggin Effectiveness and Outcomes
The Perfect Noggin and its predecessor, the Plagio Cradle, have been extensively studied and have shown excellent results in promoting cranial symmetry in infants under 4 months. A smaller version, Crown Cradle is currently used in a number of pediatric intensive care units around the United States to offset deformational head shape changes that commonly occur in premature infants. For more information, see the studies below.