"Back" to School Physicals & Scoliosis Screenings
Posted on by James Wynne, VP, Dir of Education, Boston O&P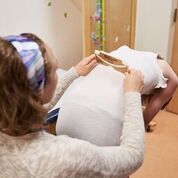 It's officially back to school season for many families, and that often includes getting a mandated physical for school and / or sports participation.
With the increased popularity of walk-in clinics offering in same day appointments for free to low cost physical examinations for sports and schools, it is important to be aware of how a scoliosis screening works and when it is most important to have one.
In most instances, a pediatric physical will include a medical history review, vision and hearing tests, vitals and fitness assessments, and joints and flexibility checks.
A scoliosis screening should be part of the physical examination for children at specific ages. While scoliosis can occur at any age, the most common type, idiopathic scoliosis, most often occurs in children age 10 to 12 and in their early teens, so it's important to have your child screened to catch it early.
The American Academy of Orthopaedic Surgeons recommends that girls be screened twice, at ages 10 and 12, and that boys be screened once, at ages 13 or 14. The American Academy of Pediatrics recommends, however, scoliosis screening at ages 10, 12, 14, and 16 years.
How Scoliosis Screenings Work
A scoliosis screening takes about 30 seconds and, in most instances, is the "Adam's forward bend test" in which the patient bends forward at the waist as the screener views the child from the side and behind, looking for uneven shoulders, hips, or waistline or for shoulder blades that stick out or are uneven.
The child will then be asked to bend forward from the waist with the arms hanging down, and the examiner will again look for any unevenness in the back or rib cage. The examiner may also view the child from the side or take measurements with a device called a scoliometer.
State Scoliosis Screening Requirements
While a scoliosis check may be included in a general school physical, many states also require that children be screened for scoliosis in school. In both Massachusetts and Connecticut, the law requires every student in grades 5 through 9 to be screened for scoliosis each year. Screenings are performed by the school nurse or another trained medical professional, and parents are notified of any concerns.
To see if your state requires in-school scoliosis screening, visit the National Association of State Boards of Education's State School Health Policy Database.
Even if your state and / or school district does not have specific requirements for scoliosis screenings, most instances of scoliosis cannot be detected by the untrained eye. If you have concerns about your child's spinal development, consult your pediatrician immediately.
---