Behind the Curve: Debunking Top Scoliosis Myths (Part 3 - Cost & Insurance)
Posted on
Part 3 of 7: In this post, we focus on one of the biggest issues for families facing scoliosis treatment—cost and insurance—and share the truth behind some of the most common misconceptions.
---
Myth #8: If you pay more, you will get a better result.
There is no evidence to support the claim that if you pay more you will get a better result. While it's true that some braces cost thousands more than others, they don't necessarily get better results. The physician prescribing the correct brace, the orthotist designing and fitting the brace, and the patient adhering to the wearing schedule are all key to a successful outcome.
Some braces on the market today cost far more than what typical insurance pays. They are no more effective than the braces made by Boston Orthotics & Prosthetics, the makers of the original and most popular scoliosis brace, the Boston Brace.
Myth #9: Insurance covers all bracing.
Not true. There are braces that originated in Europe that cost thousands of dollars more than others. We aren't sure why they charge so much, because there is no evidence linking them to a better outcome. Insurance companies in the United States have limits on what they will reimburse, and each insurance carrier and policy is different. It's always a good idea to check with your insurance provider to understand what will be covered and what won't.
Most insurance companies will cover the cost for the Boston Brace System. Our Boston Brace 3D, which utilizes scanning technology, CAD/CAM modifications and has produced industry-leading results, is approved for the standard insurance coding system.
The actual cost of your treatment will vary depending on your insurance policy. Co-payments and deductibles vary.
Myth #10: Off-the-shelf bracing is as good as custom-designed braces.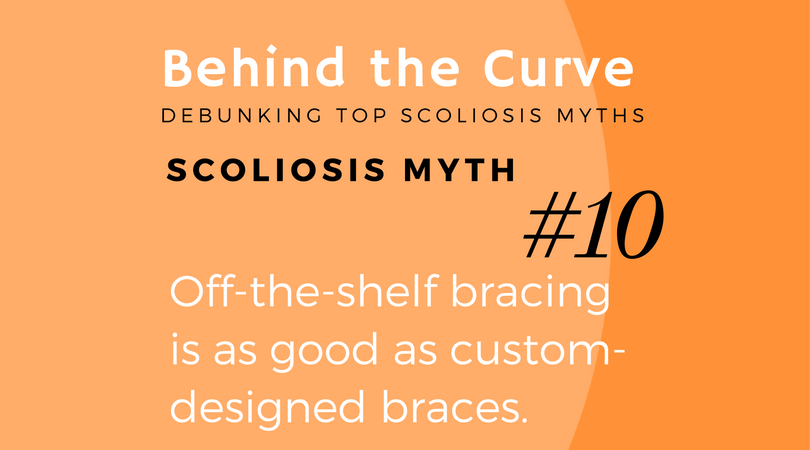 There are body molds in the marketplace that can get close to your specific body dimensions. The key word here is "close." At Boston Orthotics & Prosthetics, every brace our orthotists fit meet the specific dimensions of the patient's body. We take over 29 measurements in our custom braces to ensure performance and comfort.
---