Boston Orthotics & Prosthetics Creates Matching Brace for American Girl Doll
Posted on by Judy Smith
Imagine this: You're a little girl with scoliosis being measured for a Boston Brace. How would a matching brace for your favorite doll make you feel? According to Samantha Pincus, the answer is "a little less scared" and "maybe a little excited."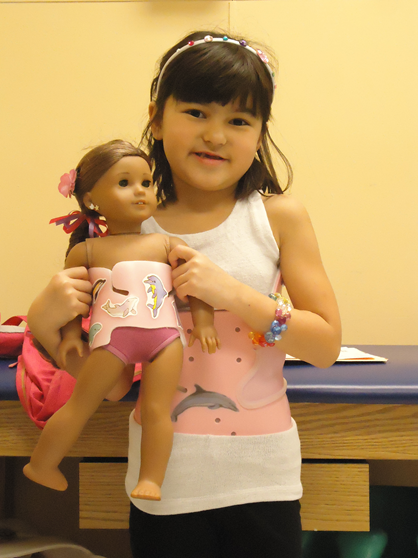 That's what Samantha, one our pediatric patients, had to say when we asked her about her initial experience and the brace we made for her American Girl Doll.
She said having her doll's brace helped her learn how to put on her brace by herself since she could practice on her dolly.
It also helped her wear the brace for the prescribed hours. She would put hers on in the morning along with her doll and they would wear it all day together, eventually even to bed. As a result of this compliance, she received good correction as shown in her in-brace x-rays and there was less need for her parents to monitor her for adequate wear time.
To make the brace, we took a scan of the doll using the Rodin4D CAD system. Boston O&P fabrication carved an exact foam model and pulled plastic over it. They were even able to match the color (pink!) and finish the brace to mirror Samantha's. A few stickers purchased by the clinical staff and an exact copy was delivered much to the family's delight.
Now that's a happy patient! Samantha has gone on to wear several more braces from Boston O&P. She and her family remain satisfied and pleased with her progress and were happy to participate in this story.
---