Boston Orthotics & Prosthetics and Variety Make a Difference for 7-Year-Old Girl with Spina Bifida
Posted on
Amy Carbungco's 7-year-old daughter, Tessa, was born with myelomeningocele spina bifida. She has no feeling from the ankle down and has been wearing braces on her legs since she was a baby.
At Boston O&P, our clinicians specialize in tailoring our braces to the specific needs of our patients, but Tessa is an especially unusual case. "She has the most severe form of spina bifida, but you wouldn't know it because she is so mobile," says Amy.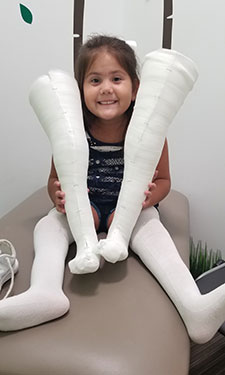 Thanks to the care and innovation of Craig Edmunds, CO, clinical director of Boston O&P's Pittsburgh Region, Tessa has braces that enable her to get around easily. "Tessa and Amy inspire me to create solutions that adapt to Tessa's ever-changing needs," says Craig.
"Craig has had to come up with ideas to make braces that work for her," says Amy, "and now she goes to school and walks and everything with the use of her KAFOs."
"Tessa presented us with many challenges in order to make her safer and more independent," Craig says. "At Boston O&P, we specialize in these pediatric challenges and view them as opportunities to make a difference in these kids' lives."
Craig also helped connect Tessa to another important resource—Variety, which is a Pittsburgh-area charity that provides unique programs, experiences, and equipment to eligible children with disabilities.
Craig is a longtime supporter of Variety, and Boston O&P has also helped promote the cause and was a Silver Supporter of Variety's 91st Annual Gala this past November.
"We are so fortunate for our relationship with Variety," says Craig. "This relationship provides us knowledge on unparalleled products, which can help so many kids and their families."
"Variety is amazing," says Amy. "We're a middle-income family with two other kids. Stuff for Tessa is expensive, but when we applied for things from other charities they said we made too much money."
One of the things Tessa wanted was an adaptive bike. Insurance said they wouldn't cover it because it was a toy, though they offered to pay for a wheelchair. That's when Variety stepped in.
Variety is fully funded by sponsors and has higher income thresholds than other charities, so even a family making over $100,000 can qualify for its programs.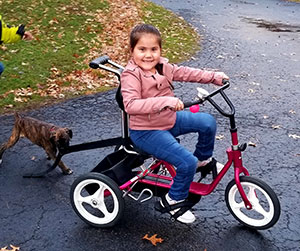 Through Variety, Tess got her bike. "She loves it," says Amy, "she rides all the time. When we got it, she said, 'Now I can ride with my brothers!'"
Riding her bike with her brothers is only one of Tessa's goals. Right now she has to wear her KAFOs all the time, but someday she wants to graduate to AFOs. Does Amy think she'll reach that goal? "She is a very determined little girl," she says with a laugh. "Nothing is impossible!"
---