New Night Brace and KAFO Transform the Life of Girl with Spina Bifida
Posted on
Kaden has spina bifida, and needs an AFO on one leg and a KAFO on the other in order to walk and stand. Kaden and her mom have been dealing with different orthotists and various devices since birth, but never found one that did more than the bare minimum. Then they found Craig Edmunds, a certified orthotist and the clinical director of the Pittsburgh region for of Boston O&P, and that changed everything. This is Kaden's story, as told by her mom.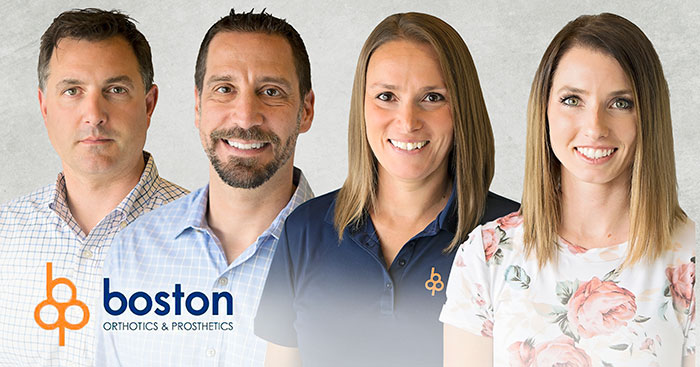 "We had been going to our previous orthotics practice for Kaden's whole life, more than 12 years at that point. Our relationship with our orthotist was normal and cyclical: whenever Kaden outgrew an AFO or KAFO, she was measured for a new (but essentially the same) one, year after year.
"While those orthotics were adequate and kept her walking for years, they were antiquated and none of them lessened her knee contracture or made things "better." No clinician had ever mentioned that to us as a possibility.
New Products, More Problems
"When the orthotist Kaden had been seeing for most of her life retired, the new one assigned to her ordered a KAFO that was very different from and seemingly more advanced than anything we'd seen previously.
"After years of wearing outdated orthotics with leather straps and buckles, Kaden was hesitant but ultimately happy with the change. She'd had this new KAFO for almost a year when it was recommended that she start using a night splint because her knee contracture was getting worse.
"We went back to our orthotics practice and Kaden saw a different orthotist, her third in a year. He took measurements and ordered a "custom" orthotic, but there was nothing special about it. It was simply a static wrap-around splint with velcro straps and metal brackets, and it took two months for us to receive it. Kaden wore it for a short time before it caused pressure wounds due to her knee contracture, something the orthotist should have known would happen.
"After exercising years of patience through Kaden's care (making phone calls, waiting for equipment to arrive, dealing with wounds caused by orthotics, and attending countless clinical appointments), this latest experience frustrated us to the point that we knew it was time to try something different.
A Patient-Focused Approach
"We finally went to see Craig to obtain a new night splint. At our first appointment, he immediately said that he'd create a custom, dynamic brace for Kaden to wear at night, one that would improve her contracture, wouldn't cause any pressure, and would also stretch her leg while she slept. We had only ever been told that her knee contracture could get worse, so we were skeptical but hopeful.
"At this same appointment, Craig also examined the KAFO she was wearing and pointed out to us that it didn't actually fit her. She wasn't even really in it (we were shocked when we realized he was right). He wanted to design an orthotic that would fit her perfectly…and work…and make things better.
"Kaden thought her current KAFO was the best she'd ever have, so she didn't want to try anything different (again). Despite her doubts, we were impressed enough with Craig's vision and enthusiasm that we agreed to pursue a new KAFO in addition to the dynamic night brace. We returned for a KAFO-measuring appointment a few days later.
"Craig was meticulous during those appointments. He spent hours asking us questions to understand Kaden and her situation, including what she liked and disliked about her previous orthotics and what activities she enjoyed. He listened carefully to what she said. He watched her stand and walk and move. He made on-the-spot suggestions for improving her walking that no clinician had ever made before, like changing the lifts in her shoes. He made us feel as if Kaden were the most important patient he'd ever treated.
"A few weeks later, we received the dynamic night brace and the new KAFO. Their innovative design made them different from any orthotic Kaden had ever had. It was obvious that they were going to change her life.
Standing Taller, Walking Better
"Today, seven months after our first appointment with Craig, Kaden's knee contracture has lessened markedly. She can stretch her leg out more than she's been able to in years—it's measurably longer. She stands taller, walks better, and is more confident. Since she started using the night brace and KAFO that Craig designed, Kaden's gait, hips, and posture have all improved. It's a bit surreal.
"Looking back to those early appointments, I remember sitting in Craig's office, feeling optimistic and amazed that he had figured Kaden out and was determined to design something that would actually improve her situation. I truly felt that his work was going to make that much of a difference to her and to our family. And I burst into tears right there in the office. They were tears of sadness because of what I felt were wasted years of our daughter's life. But they were also tears of happiness, because we'd found a highly skilled and compassionate clinician who had truly taken the time to understand her particular situation and needs. Craig didn't try to fit our daughter in a box. He built a box, just for her, on which she could stand."
---