Luca's Plagiocephaly Journey with the Boston Band
Posted on
When Luca was born, his grandmother noticed his head looked flat. His mom, Nadine, tried repositioning techniques for 6 weeks as advised by her doctor, but there were no improvements. "It was worsening, and it was becoming harder to keep Luca on one side when he was learning how to roll from side to side," said Nadine.
By the time Luca was 3 months old the flattening had gotten much worse, and Nadine did some research online and found the Boston Orthotics & Prosthetics Instagram page. Nadine took Luca to the Align Clinic in Cardiff, South Wales, and met with clinician Lisa Williams.
"As we were waiting to be seen, another family was leaving full of smiles, so I knew I had nothing to be anxious about, and I was right," said Nadine. "I instantly felt comfortable meeting with Lisa. Lisa is full of knowledge regarding this subject and all my questions and concerns were answered without me having to ask."
Nadine was worried that if left untreated, Luca's head shape might lead to bullying, but Lisa told her there might be physical implications as well, including problems with getting a bicycle helmet or glasses to fit properly, and maybe even the possibility of needing dental work.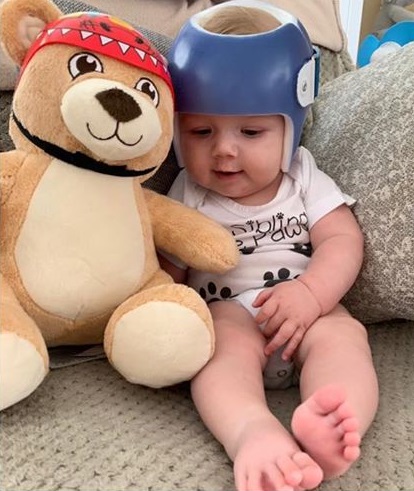 "The deal-breaker for us was when we found out he measured severe for both plagiocephaly and brachycephaly (cranial ratio 94% and asymmetry 16mm)," said Nadine. "Lisa recommended helmet therapy, and we decided to go ahead."
Lisa scanned Luca's head and fit him for a helmet, a process Nadine said was smooth and pain free. "I was worried Luca wouldn't take to it being put on and taken off, but he barely noticed," she said. "I think me being so relaxed really helped Luca too. I was relaxed because I was informed—I didn't leave the clinic on the day of fitting until I felt confident and competent at taking it on and off."
Nadine followed Boston O&P's weaning into guide and on day 3 he slept through the night with the Boston Band on. "The helmet is so light I'm not even sure he knows there's something on his head," Nadine said.
"Luca has been simply amazing throughout, from him having his initial scans right through to wearing the helmet full time," said Williams. "He is always full of smiles at every review and has literally taken everything in stride."
While wearing the Boston Band didn't bother Luca, it did make his head hot, and Nadine said he was a lot sweatier that she expected, but she was able to easily manage that issue by making sure he had a cool bath before bed and wasn't overdressed at night. To keep the helmet clean and smelling fresh, Nadine uses antibacterial wipes with a few drops of lavender essential oil.
"I feel lucky to be involved in Luca's helmet journey," said Williams. "I love the daily messages from his Mum of how he is getting on and receiving the photograph updates too. He has excelled in his first two weeks wearing the helmet and has already channeled 10mm. I'm not too sure who was happier, his family or me! I'm already looking forward to taking the next set of measurements to see how well he has done."
So what would Nadine tell a mom who has a child diagnosed with plagiocephaly? "If helmet therapy is recommended, I would say 100% go for it," said Nadine. "You can still cuddle your baby, rock them to sleep, and comfort them when they are upset, all with the helmet on. The helmet has not changed Luca, if anything he's even more cute with it on and there are so many different designs and decals to jazz it up."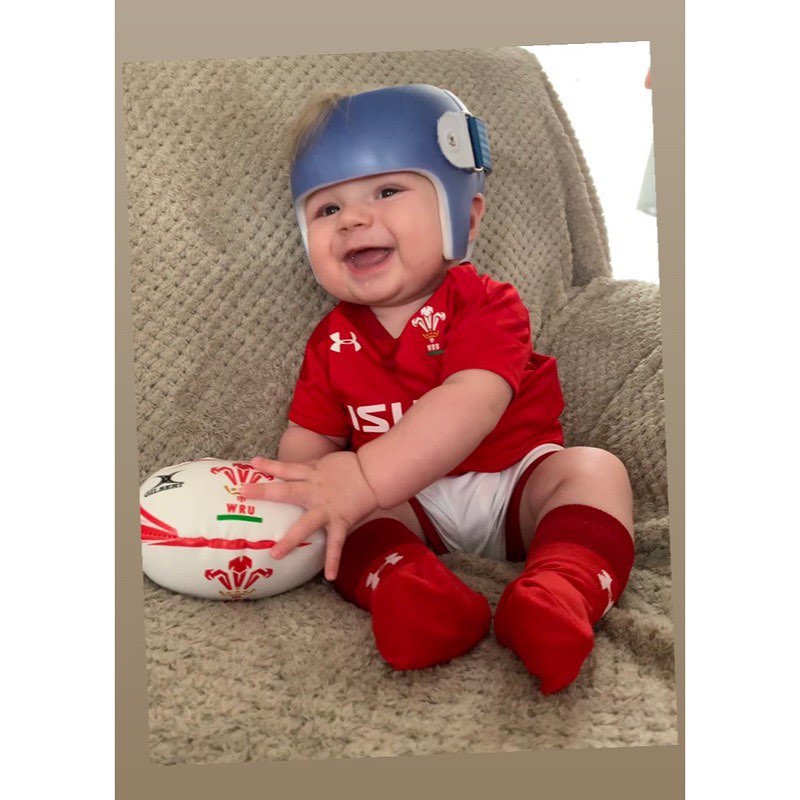 "
To see more on Luca's plagiocephaly journey, including photos of his progress during every appointment and other information about babies, plagiocephaly, and helmets, visit his Instagram page.
---