Peter's Story: A Triumph of the Inner Spirit
Posted on
Peter Bruce has been a patient of NOPCO (now Boston O&P) since 1996. He was born in the Philippines, spending the first five years of his life in a religious orphanage run by nuns. He remembers always being treated like all the other kids living there. He never thought of himself as different because no one else did.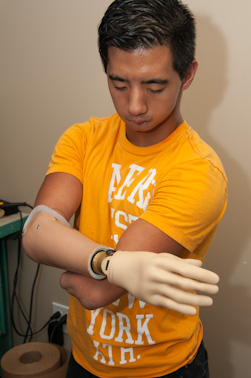 Peter was born without both hands and one foot. He was diagnosed as having a rare condition known as Pierre Robin Syndrome. A Massachusetts' family adopted Peter, and he was first seen at NOPCO at the age of six. He explained that his parents looked beyond the physical appearance and saw a triumphant child. It's that inner spirit and strength that has allowed Peter to be a positive influence to those that he meets.
We asked Peter if he wished to sit down and talk with us about his experience as an amputee so that other patients and families facing or living similar situations would know they are not alone and perhaps learn from Peter.
Why have you stayed with NOPCO for 17 years?
He liked the way he was treated, like a regular kid: "I saw how medical professionals interacted with other kids, and liked that I was treated the same way by NOPCO". Peter explained that NOPCO staff has become more like friends and that at a young age he was a part of the decision making. The practitioners think outside of the box and always look for new ideas. "NOPCO allowed me the freedom to express myself."
As a child, what was your favorite prosthesis?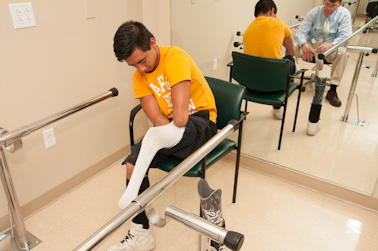 "The largemouth bass" Peter stated without hesitation. He loved fishing with his Dad and had a T-shirt with a large mouth bass coming out of the water with a hook in its mouth. "I knew my leg was fake, so why try to make it look like a real one? I can't hide my arms or face, so why hide my legs"? So Peter's Bass T-shirt was laminated into his prosthesis. The next year his second favorite prosthesis featured the three headed dog from Harry Potter. Peter laughed when telling the story that he didn't realize the drool from the dog was black light sensitive, so Peter was an easy target for his friends while playing laser tag. He won the "most hit" award that day.
He used task specific upper limb prosthesis as a child. He liked his various "hand" attachments that allowed him to catch and throw a baseball; dribble and shoot a basketball. Today Peter uses myoelectric hands and likes running with his "sprinter" leg.
What are things you can't do that you wish you could?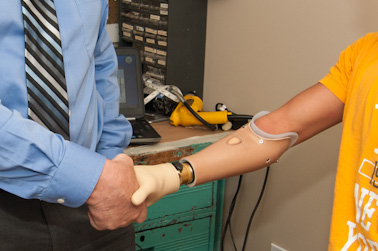 Peter stated very boldly that there is not much he doesn't do. He is very involved in activities and day to day tasks. Peter played football in high school, loves to draw and dance, which are all escapes for him. Peter stressed that he does not limit himself to anything and wants to prove to himself and others that he can do anything he puts his mind too. Peter stated, "You should always want more for yourself; you have to push fear out of the way and keep going until the goal is reached." He noted that parents can't limit their child to what they can do or assume they can't do something; they will then accept the defeat. His parents never told him he could not achieve something but instead pushed him to succeed.
Peter today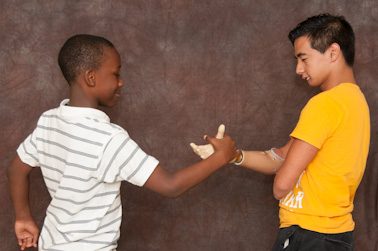 Peter now likes talking with other young congenital amputees and assures them that there's nothing they can't do if they set their minds to it. He wants his story to be heard and help children live their everyday lives. Peter told us a story about a young boy he had met who was being teased because of his leg, Peter explained to him that you are unique and have the ability to change your leg and show it off. He said to look at it as a challenge and rise above it instead of looking at as a negative. Peter is now studying to be a minister and motivational speaker.
---