Q&A with Michael Yiallourides, CPO, Boston Orthotics & Prosthetics
Updated (Originally posted )
Michael Yiallourides joined Boston Orthotics & Prosthetics in 2019, working in the Manhattan clinic. In this Q&A, Michael shares why he was drawn to the field of orthotics, what he sees as the key to providing great care to his patients, and why he decided to join Boston O&P.
You have an undergraduate degree in exercise physiology from Towson University. Did you always intend to go into the field of orthotics?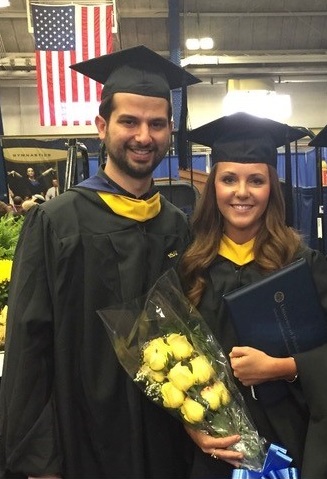 I discovered the orthotic/prosthetic field when I was originally working in physical therapy. Seeing patients come in with their different devices piqued my interest in how and why they got them. When I found a job doing orthotics at an orthopedic surgeon's office, I knew I had to explore it, which led me to loving the field and pursuing it further.
What made you decide to go into orthotics?
Orthotic treatment is applicable to so many cases. Whether it's helping an athlete get back on the field or helping a child take their first steps, orthotic intervention provides treatment options for so many people. I believe the right mix of science and creativity is required in order to know how to treat each case. That was the draw for me: to educate people and create different options of care that maintains/improves their health, function, and overall lifestyle.
What would you say is the key aspect of your approach to care?
I always try to convey compassion and education to my patients and their families. In most cases, a patient is seeing several providers for their care, be it a physician, therapist, counselor, or any other discipline. Understanding what a patient and their family are dealing with helps me formulate a treatment plan that is specific to them, as well as educate them on everything we're doing. When they understand what we're doing and why, they are often more accepting and compliant as well as pleased with the experience.
What experiences have done the most to expand your skillset and improve your ability to treat your patients?
I've learned the most by trying to diversify my experience. Working in physician and surgeon offices, physical therapy, orthotics/prosthetic—and treating all types of patients in each field—has taught me how to draw from each aspect to provide the best possible care to each patient. Everyone has a learning experience to offer, whether it's a patient or colleague. Keeping my mind open to learning from each person has developed my skillset to confidently and successfully treat my patients.
How do you keep current with recent advances in the industry?
I always enjoy attending the various conventions and conferences that showcase the latest products and innovations in the field. Going to these events, speaking with colleagues, and reading up on the latest advances ensures that I can provide anything for my patients.
What do you see as the most exciting advancement in scoliosis treatment?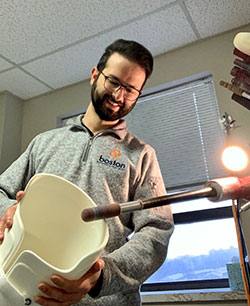 The most exciting advances to me are in how a brace is designed. CAD technology has allowed us to capture the most detailed images of our patients without having to cast them or rely solely on measurements. A detailed scan allows us to fabricate a brace that provides the most intimate fit with targeted intrinsic correction, which results in better comfort, compliance, and results.
What do you think makes Boston O&P's treatment of scoliosis different than other approaches?
Boston O&P excels in adapting the design of the orthoses to modern research. While the original Boston Brace was an innovator in scoliosis care, it still evolved over time to incorporate principles that only improve the outcomes. The ideas of Boston Brace 3D treatment have been incorporated into how our braces are designed and fit, which have kept the Boston Brace line at the forefront of scoliosis management.
What is the most remarkable outcome you've experienced for a scoliosis patient being treated by Boston O&P?
One instance that comes to mind is when I fit a Boston Brace 3D on a patient whose mother wore a scoliosis brace as a child. Her mother's brace was metal and heavy. Hearing about that made the patient very nervous about getting a brace. At the initial evaluation, they were pleasantly surprised by what braces look like now. At the fitting appointment, the patient was surprised by how comfortable and tolerable the brace was. The mom was at first skeptical of the effectiveness of the brace because she thought if it was comfortable then it was not applying enough correction. Their first in-brace X-ray showed an over 60% curve reduction, and from there we only augmented to increase the correction. Both the patient and her mom were thrilled. The patient was happy that the brace was much easier to manage than she thought, and the mom was impressed with the advances in orthotic treatment of scoliosis.
You joined Boston O&P in 2019. What differences have you experienced in Boston O&P's products, treatment approach, and philosophy of care as compared to your previous positions?
Most notable is Boston O&P's consistency of standard of care and operations. Boston O&P constantly revises and improves how products are made, how they're ordered, and how each clinic can run most efficiently. A dynamic and developing company will always be able to provide the best services as it never grows complacent in its desire to do so.
What did you know about Boston O&P before you joined the company?
I knew that Boston O&P is of the most prominent providers in pediatric orthotic & prosthetic care, and I knew that they value their employees. I knew that it was a company that took care of the employees so that we can take care of the kids who come to us for help.
What would you consider your specialty, and why were you drawn to that particular area?
I have specialized in lower extremity orthotics and prosthetics in the past, and have now focused on spinal orthoses as well. These disciplines have been a draw to me because I feel they are most impactful in a person's health and quality of life. They also require a great deal of creativity in treatment which I enjoy the challenge of.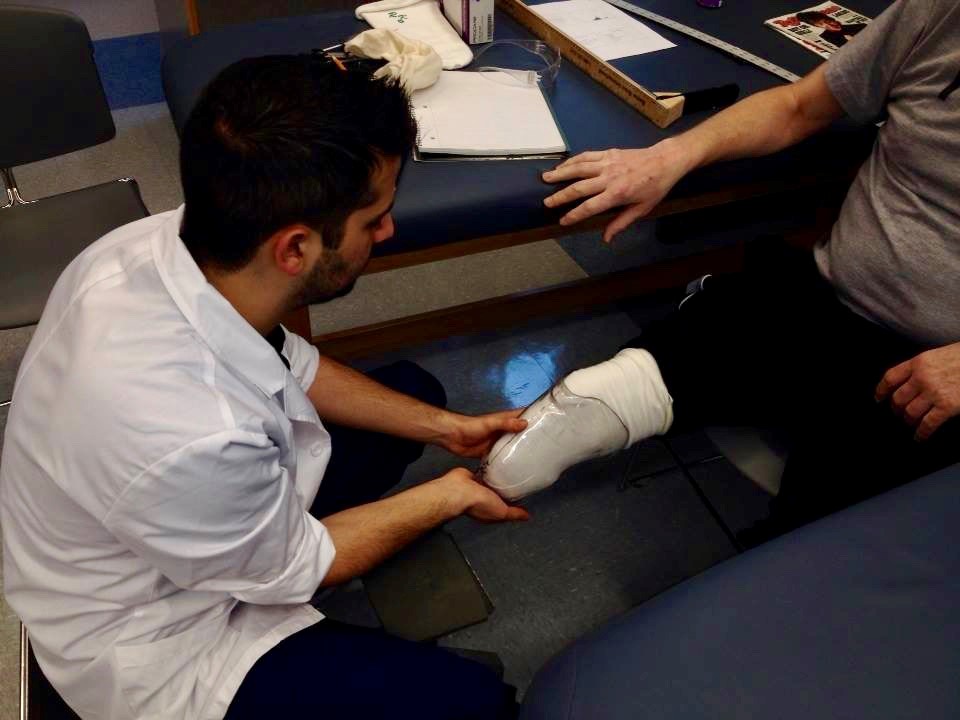 How does Boston O&P's philosophy of care compare with your own?
I believe in consistent growth and improvement. Boston O&P encourages this through its day-to-day efforts in improving operations, customer service, and patient care. I'm impressed with Boston O&P's drive to grow and develop and try to mirror it in my own actions.
What has been your most rewarding experience working in your field, and at Boston O&P specifically?
Treating kids is its own reward in my eyes. To help them walk, help them play, or help them get through whatever condition they are dealing with is the best reward I can ask for.
What is the biggest professional challenge you have faced?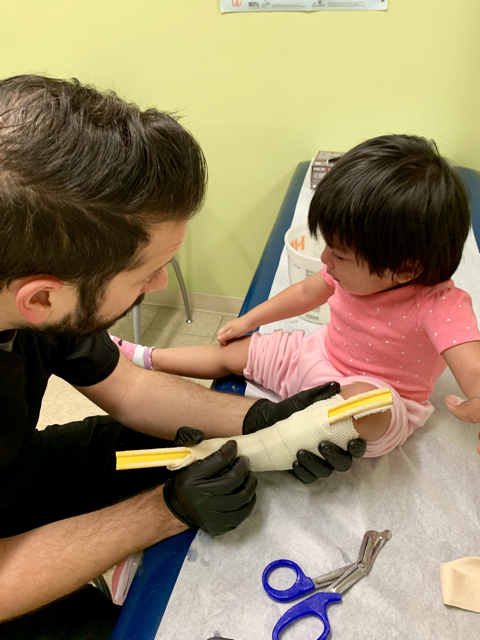 While my past experience has been diverse in demographics, adapting to a child-focused practice has been a challenge I've enjoyed. Children have the most unique needs as they grow and develop. Some cannot always verbalize what they feel. Learning how to interpret a child's needs when they can't express them is a challenge that I continue to learn how to solve each day.
Do you have any specific goals or wishes you'd like to fulfill in your career?
My goal can overall be summed up in one word: education. I want to help teach future practitioners, physicians, and allied health partners about orthotics and prosthetics to spread the word about the great things our field can do. I have done in-services with physicians, physical/occupational therapists, and guest lectured at universities to educate everyone I can about our profession. I believe aligning education in a multi-discipline team with the skillset of a qualified prosthetist/orthoptist ensures the quality of care patients will receive.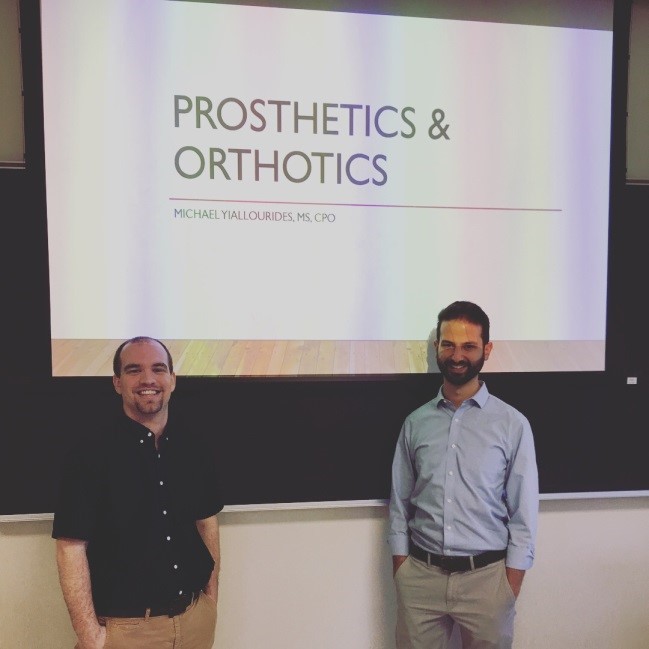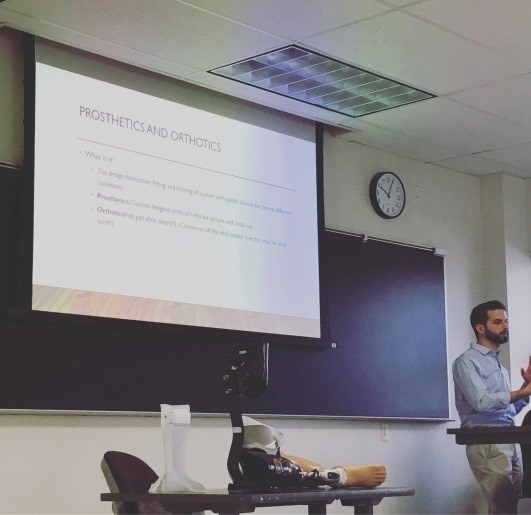 ---