Scoliosis Bracing Case Study: Boston Brace 3D Achieves Impressive Curve Correction
Posted on
Holly's daughter Aubrey was the typical tween. She played basketball and volleyball and did Irish dancing. "She's a typical almost-13-year-old," said Holly, "hanging with her friends and on her phone all the time. She never sits still."
Then, at her well visit a year ago, the nurse practitioner checked her spine and told Holly to get Aubrey's back X-rayed. The results showed a 29-degree curve, which put it in the low range of moderate scoliosis, defined as a spinal curve of 25-40 degrees.
Holly had heard of scoliosis, but she thought it would be more obvious to the naked eye. "I thought when I looked at her I'd be able to see something," said Holly. "I never noticed."
Even when Holly visited an orthopedist and he looked at the X-ray, she thought he was going to tell her the curve was normal. He didn't. He told Holly that to prevent the curve from worsening, her daughter was going to need to wear a brace.
Rigo Cheneau vs. Boston Brace 3D®
The orthopedist mentioned a Rigo Cheneau brace as a very good but expensive option, but Aubrey's mom knew it wasn't the only one.
Holly knew someone who worked at Boston O&P's Bridgeville clinic—Wendi Liguori. After discussing the outcomes of the Boston Brace 3D® and watching some videos, Holly decided to try the Boston Brace 3D.
The fitting process at Boston O&P, which was done by Wendi, a certified orthotic assistant, and Craig Edmunds, a certified orthotist, was a great experience, said Holly, though facing the idea of wearing a brace for 2 ½ years, until her growth is completed, was pretty upsetting for Aubrey.
Excellent In-Brace Correction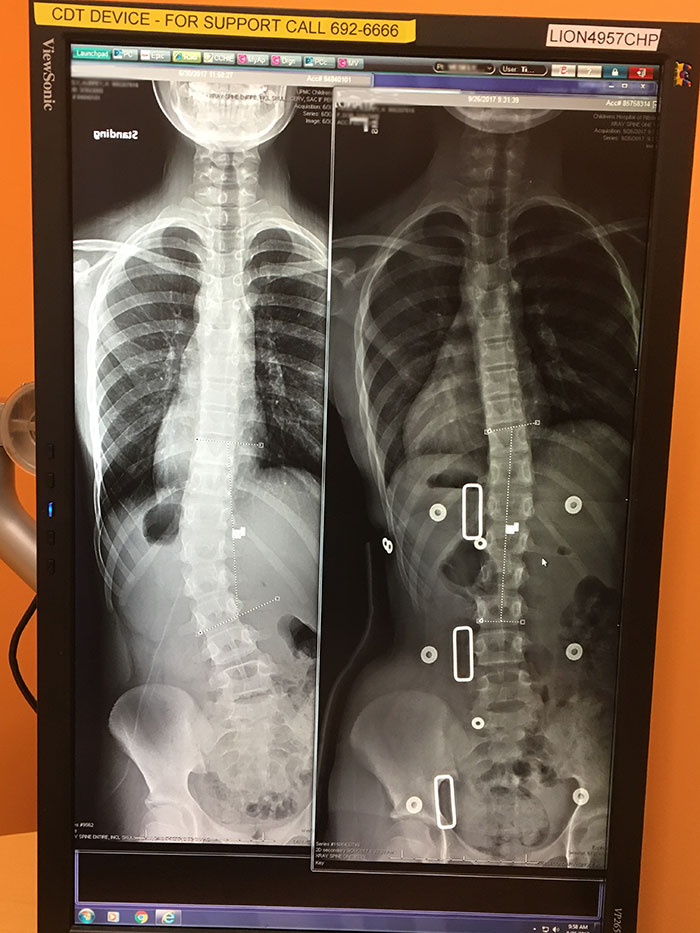 Aubrey's doctor said she needed to wear it 23 hours a day, but wearing the brace at school was difficult. After some discussion, her doctor eventually recommended Aubrey wear the brace a minimum of 17 hours a day. She wears it all the time at home, day and night.
Even without full wearing compliance, Aubrey has already seen amazing results. In just a few months of use the brace is overcorrecting Aubrey's spine from 29 degrees to -11 degrees in-brace. "I honestly think the doctor was shocked," said Holly. The Boston Brace 3D is relatively new to the market and such in-brace correction is not always achieved.
The doctor placed the before and after X-rays side by side and told Aubrey to take a picture, hoping the dramatic difference would inspire her to increase her wear time.
"Bottom line, she needs to wear it more," said Holly, "we know the brace is working."
---