Six weeks to symmetry: Fixing the flat spot on infants' heads
Posted on
When asked what he loves most about his job, orthotist Dustin Oliver simply says, "It's the kids."
Oliver, who works for Bionic Orthotics and Prosthetics in Lafayette, Indiana, is a certified partner of Boston Orthotics & Prosthetics. He has guided the treatment of hundreds of infants using a corrective helmet called the "Boston Band," known as a cranial remolding orthosis.
"I appreciate the meticulous effort Boston O&P puts into the helmet fabrication process," Oliver says. "This, combined with their ability and experience to adapt and accommodate my requests, makes my job much easier, ultimately helping us reach our common goal — helping our patients."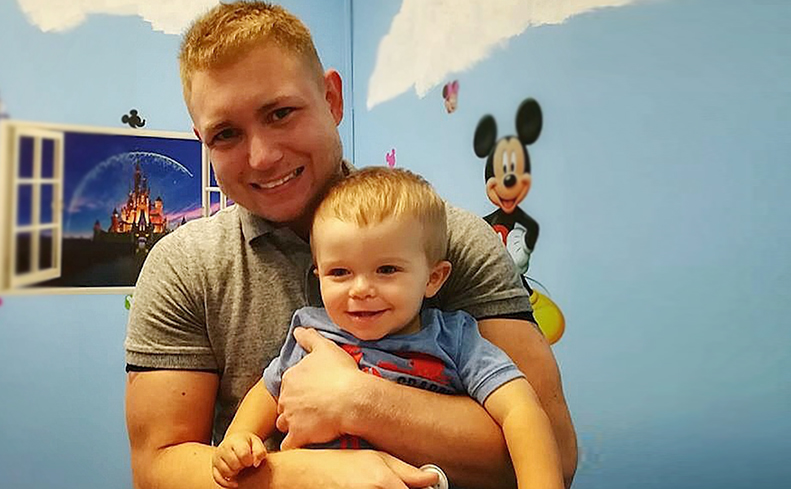 What is cranial remolding orthosis?
A cranial remolding orthosis is used to help correct a baby's abnormal skull shape. A growing number of infants have some form of skull deformity or positional plagiocephaly related to factors such as in-utero positioning or sleep position. If addressed early, the vast majority of these children can be treated successfully with a Boston Band.
Oliver has about 50 patients he's actively seeing for cranial asymmetry.
"There is generally a correlation with premature babies or children who are twins, triplets or multiple births," says Oliver. "It's more common that you would think".
The helmet acts as a mold by restricting further asymmetric growth and guiding the flattened areas to gradually grow and round out into the empty space of the helmet. But, according to Oliver, timing is key.
"The age I like to get the process started is between 5 and 8 months. The fibrous tissue between the cranial bones (sutures) is not fully developed yet, so at that point we're able to get a quicker result."
The Boston Band is made of plastic and foam, and is designed using measurements from a cast impression or a 3D cranial scan. Over time, the foam requires frequent modifications to provide a pathway for the infant's head to grow into a more symmetrical shape.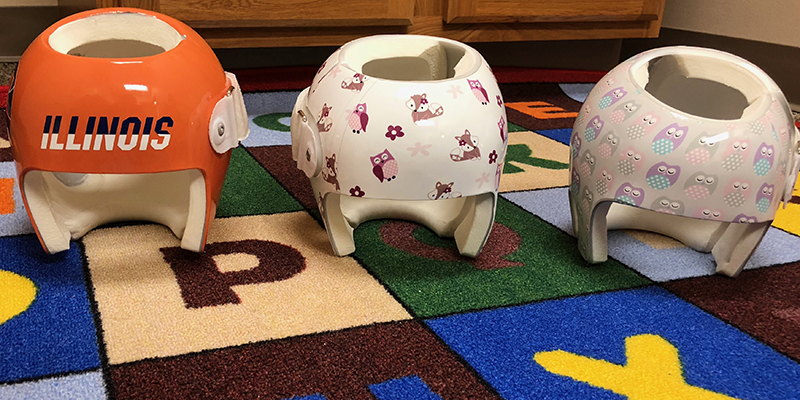 Obtaining symmetry sooner
An orthotist's goal is to obtain symmetry. Over the past eight years, Oliver has fine-tuned his technique, so that the helmets are achieving full asymmetry correction in as little as six weeks. He attributes his success to education, compliance, fit and follow up.
"I make sure the parents understand that the helmet should be worn by their child 23 hours a day, unless otherwise directed by the referring physician. I show them how to put it on and take it off correctly. I make sure it fits appropriately with adequate space and proper pressure. And, I follow up every two weeks until the child is a year old, check measurements once a month, then reevaluate and reassess."

Meeting milestones
During the first two weeks after wearing the Boston Band, Oliver says there is a noticeable difference. Although physically, he can obtain symmetry in six weeks, that doesn't always mean the helmet can be removed.
"They can regress," Oliver says. "They've got to meet milestones before they can be helmet-free. They've got to start rolling over, sit up independently and start crawling. If they are not doing these things, then they are on their back, and that can lead to further regression and further deformity."
However, if they're meeting their milestones, if the skull is rounded out and the measurements are reflecting that, then it is time to taper them off. And Oliver's job is complete.
"Knowing that you're the one who is changing this child's life forever and for the better, I think that is the most gratifying thing that I can do. And that's what keeps me going to work every day."
---