Tech Q&A with Gordy Frazier
Posted on
As a helmet tech with Boston Orthotics & Prosthetics, Gordy Frazier specializes in fabricating and fitting Boston Bands for babies who have been diagnosed with plagiocephaly.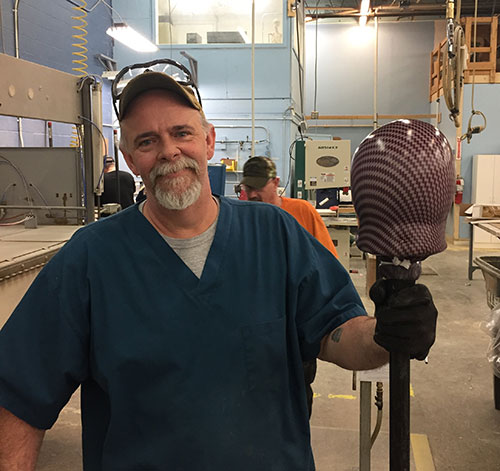 The Boston Band is a lightweight cranial remolding orthosis made from a cast impression or a 3D scan of the infant's head. It is made of a plastic shell lined with polyethylene foam that provides a pathway for the infant's head to grow into a more symmetrical shape.
What made you decide to get into this field?
I was working an overnight job at the time when Debbie (my wife) thought I might like getting into this field. She was right.
What is a typical work day like for you?
Very busy. I start at the ovens: The helmet mold goes to the ovens for foam liners (multiple layers), then the plastic is heated in the oven and the transfer paper bleeds into the plastic. Once the transfer has fully bled into the plastic it is then put on the mold. While on the mold it is attached to suction so the plastic will better adhere to the mold. This takes a few hours to be ready for finishing.
After the ovens, I move over to finishing to make sure all orders are ready for delivery. The finish room is where they will cut the face out of the helmet and ear holes. The helmet is then grinded and buffed to make all edges smooth. In some cases a hinge or strap is added in order to keep it secure on the baby's head.
What is your favorite thing about your job?
Knowing that I am helping children have a better future.
What has been the most challenging project's you've had while at Boston O&P?
Being a part of a LEAN initiative to move all the helmet techs closer to each other to save time and make it easier to cross train. The moving of the techs included bringing all three stations closer together. The mold tech and the oven techs are right next to each other now and the finish room is less than 10 feet away. This enabled us to eliminate the wasteful motion having to walk the molds to the oven area. Also, it is easier to have everyone close together.
What's the best reaction you've ever had from a client or patient to one of your fabrications?
One client from England has sent back lots of compliments, including that our helmets "fit right out of the box, no trimming necessary." It's nice to hear that our hard work is appreciated.
---