Tech Q&A with Jason Leoncello
Posted on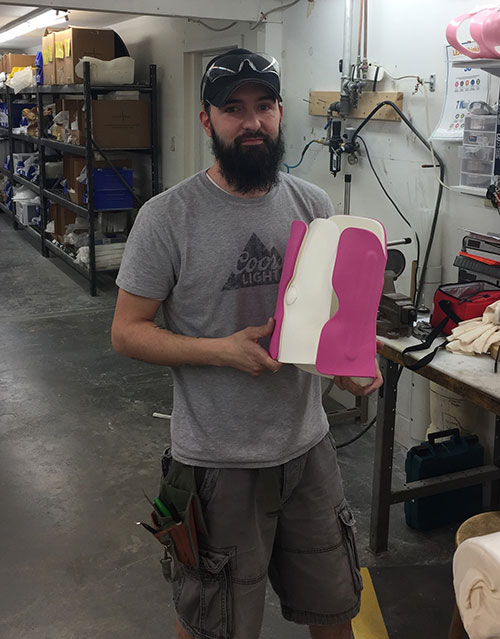 Jason Leoncello is a spinal production lead and finish tech, specializing in the production and finishing of Boston O&P's industry-leading scoliosis braces. He has been with Boston O&P for 12 years, and still loves the feeling he gets from finishing a brace that will help improve a patient's life.
What made you decide to get into this field?
I wanted to work with my hands more. It seemed to be an interesting and challenging field, I love a good challenge.
What is a typical work day for you like?
We start with a morning huddle to go over the days production, then I organize the spinal production flow throughout the day while finishing spinal braces.
What is your professional specialty?
I finish the more challenging braces that involve a high curve or multiple curves.
What is your favorite thing about your job?
I love that I get to be creative with the brace I make, and knowing that I am helping somebody to live a better and more comfortable life.
How has the work you do touched your life personally?
My kids love to tell their friends what I do for work. It makes me feel great knowing that my children are proud of their dad. My goal was to make my kids proud of the work that I do and I am glad that I have accomplished that goal.
What has been the most challenging technical project you've had while at Boston O&P?
I was a part of the team that helped to develop the design of our Kyphologic brace. That was a real challenge that the team and myself were able to overcome and produce another great brace. Another challenge was the new Boston Brace 3D®. Once I was able to learn the 3D, I felt confident that we were going to be able to produce one of the top braces for scoliosis.
What's the best reaction you've ever had from a client / patient to one of your fabrications?
The best feeling is seeing the X-ray results of a brace that I have designed. Being able to see on the xray just how much the curve has improved is great because I get to see the improvement right before my eyes.
What project or goal would you like to accomplish at Boston O&P?
My ultimate goal is to make Boston O&P as successful as possible with the help of my great co-workers.
---