What is the Schroth Method for Scoliosis?
Posted on by Amy Sbihli, MPT, DPT
The Schroth Method is a set of specialized exercises used by certified physical therapists to help people with scoliosis. The Schroth Method was originally developed to treat idiopathic scoliosis, but it is appropriate for anyone who has scoliosis, including all ages and all levels of severity.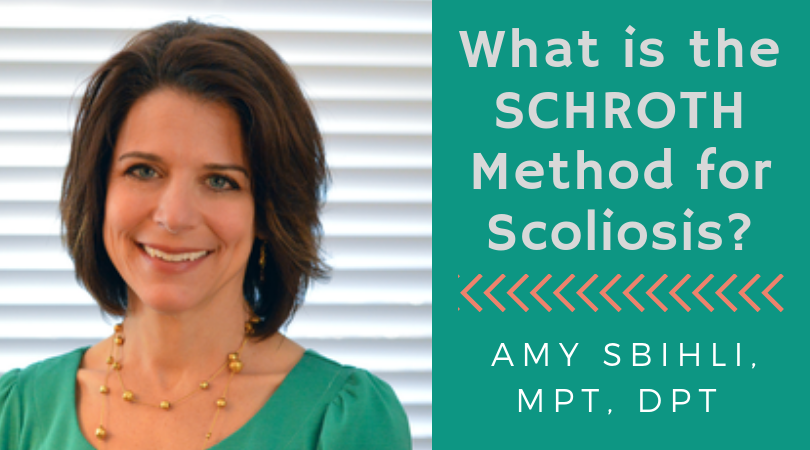 The Schroth Method was developed in Germany in 1921 by Katharina Schroth, who had idiopathic scoliosis. Unhappy with the effects of scoliosis, Katharina came up with an idea for self-treatment based on the principle of breathing air into the concave side of her body.
When her methods were successful in improving her posture and making her scoliosis more manageable, she began sharing her ideas for treating scoliosis with breathing and exercise.
Katharina taught her techniques, which came to be called the Schroth Method, for years before her death in 1985, and her ideas were carried on by her physical therapist daughter, Christa Lehnert-Schroth, and her grandson, Dr. Hans Rudolf Weiss. Together, they opened an in-patient clinic to treat scoliosis holistically with education on exercise, posture, nutrition, bracing, well-being and acceptance of their condition.
The main goal of Schroth is to help the patient learn about their spinal curvature. Once this is achieved, exercises are taught to strengthen against the natural tendencies of the curve. Education about things to avoid, postural awareness, and improved body mechanics round out the training. In the end, the patient learns lifelong skills that will enable them to live in the best possible way with their scoliosis.
Outcomes of a Schroth program may include:
Improved posture
Improved core stability and strength
Easier breathing
Less pain
Improved overall movement pattern and function
Improved self-management and understanding of the spine
Better pelvis alignment
Finding a Schroth Trained PT Near You
In the United States, scoliosis patients may be treated in an out-patient setting. Click here to find a location near you. All the therapists on this list have been certified by the Schroth-Barcelona Institute.
If you don't see a therapist in your area, tell you favorite physical therapist you're interested in the Schroth Method and encourage them to learn about how to get training in the Schroth Method. Beginner courses are available to introduce a physical therapist to the program and tell them how they can better help their patients with scoliosis. If your therapist is ready to get certified, there are courses from level 1 all the way up to high-level courses covering how to treat special cases.
If you have questions you can reach Amy at amy@spineacademypt.com.
---
Amy Sbihli is the Founder and Director of Spine Academy Physical Therapy, PLLC in the Boston area. She is the co-founder of Schroth-Barcelona Institute and an active member of Barcelona Scoliosis Physical Therapy School and SOSORT International education committee. She began working with outpatient orthopedic spine and scoliosis patients in 2004. Amy is certified to practice and teach the Schroth Method through the Barcelona Scoliosis Physical Therapy School (BSPTS) earning her certification in 2005 from the Barcelona Scoliosis Physical Therapy School. Amy received Masters and Doctorate degrees in physical therapy from Washington University in St Louis. She also holds a BA in Kinesiology from the University of Michigan. Treatment expertise includes scoliosis, SI, orthopedic spine, movement dysfunction, and Pilates.
---