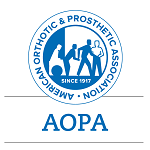 Boston Orthotics & Prosthetics is pleased to announce that its abstract, Boston Brace Baby Initial Results: A Novel Approach to Treatment of Infantile Scoliosis, has been selected for presentation at the 2020 American Orthotic and Prosthetic Association (AOPA) National Assembly.
The abstract, authored by Boston O&P clinician Lauren Houle, PT, DPT, MPO, CPO and Boston O&P VP and Director of Training James Wynne, CPO as well as M. Timothy Hresko, MD, of Boston Children's Hospital and Harvard Medical School, explores bracing as a treatment option for infantile scoliosis.
"We are thrilled to be asked to present our research on bracing for infantile idiopathic scoliosis at the 2020 AOPA National Assembly," said Wynne. "The standard treatment for infantile idiopathic scoliosis includes Mehta casting, which may involve multiple rounds of anesthesia, which per a 2016 FDA Drug Safety Communication, may affect the development of child's brains. With this abstract, we share our efforts to determine whether bracing with the Boston Brace Baby offers a safer treatment alternative."
Added Houle, "I see this as a positive part of our process, continually working toward making the best braces for our patients backed by ever-evolving evidence. It's exciting to be figuring out new ways to improve how we can care for some of our youngest patients and help them lead healthy lives."
The 2020 AOPA National Assembly was scheduled to take place September 9-12 at Mandalay Bay Resort & Casino in Las Vegas but will now be delivered virtually on the same dates due to the ongoing COVID-19 pandemic.
---