Lessons Learned from Baby Nicholas
Posted on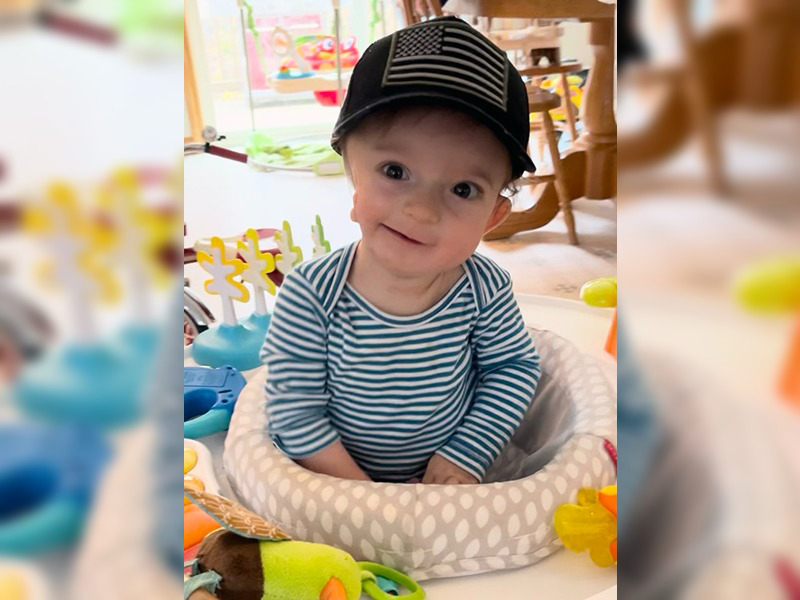 There are valuable lessons to be learned from Nicholas Lipiec and the story of the first nine months of his life.
Nick, as his mom Katie Fournier calls him, was born with hemifacial microsomia (HFM), a rare condition in which half of one side of the face is underdeveloped and does not grow normally.
Katie's 12-week ultrasound showed the first signs. Nick's chin was smaller and recessed. As a nurse — and a mom — she began to worry. Fifteen additional ultrasounds, consultations with geneticists and craniofacial specialists, and two MRIs later, she learned her baby might be born with airway and feeding issues. Dr. Cory Resnick, an oral and maxillofacial surgeon and member of the Craniofacial Center at Boston Children's Hospital, with whom Katie had consulted prenatally, suggested she transfer her care to Boston. "I was already on it," she says.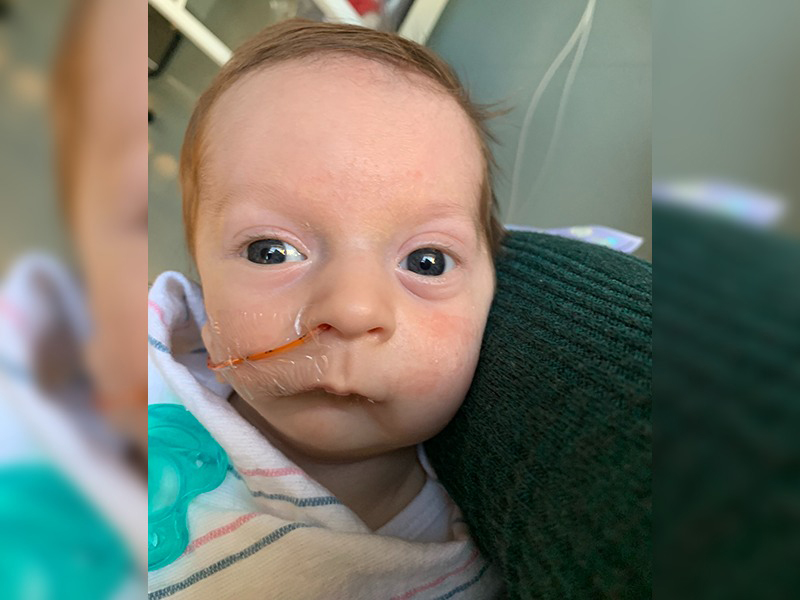 Lesson I: Perseverance
Nick arrived into the world, "screaming like a lion" — all 5 pounds of him, recalls Katie. It was Feb. 8, the day following Super Bowl Sunday. Right away, she noticed not only the chin, but also the microtia [birth defect of the ear] on the right side.
"And we were like, oh, my goodness, what do we have here? I really didn't know what was going through my head, but it was very difficult to understand."
Nick was whisked off to the neonatal intensive care unit (NICU), where he spent the next two months undergoing X-rays, ultrasounds and ECHOs. "He's had more care and checkups in his short span of life than I've had in 35 years," says Katie.
Although Nick's microtia was troubling, especially as it relates to hearing loss, the greatest concern was his jaw, which was missing a connector bone. The lack of forward support to the jaw was causing it to recess backward. As a result, his mouth tissues and tongue, which connect to the jaw, were falling back into Nick's airway, causing a breathing blockage. This problem was made worse by the small size of his jaw on his other, more normally formed side. This combination of small jaw (micrognathia), tongue prolapse (glossoptosis), and airway blockage (upper airway obstruction) is often referred to as Robin sequence. Both hemifacial macrosomia and Robin sequence are rare conditions, and the combination of the two is exceedingly uncommon. In addition, babies with Robin sequence often cannot breast or bottle feed. Nick was placed on a feeding tube.
In the meantime, Dr. Resnick and his colleagues were evaluating Nick's treatment options. On a long Zoom chat, Katie and her fiancé, Nicholas, were given two options: a surgical method to increase the size of the lower jaw, moving the oral soft tissues and the tongue forward off the airway (jaw distraction), or a tracheostomy (trach) and feeding tube. "We couldn't bring him home safely otherwise," she says. Although, there was no guarantee the jaw distraction would work, Nicholas encouraged Katie to take the gamble.
The decision was made more complicated by the lack of normal jaw bone on Nick's right side, preventing use of the internal jaw distraction technique typically used. No alternative to a tracheostomy had ever been reported in this situation. To avoid the tracheostomy, Dr. Resnick would have to innovate. He started by creating a 3D model of Nick's skull and jaws, and created a novel approach to jaw distraction that would allow the distraction device to anchor on the skull, rather than the top of the (missing) jaw. However, this approach would carry significant risk. The infant skull bone is very thin and could easily fracture. Dr. Resnick enlisted the help of orthotist Rusty Miller CPO, a Vice President and Clinical Director of New England Area Clinics at Boston O&P.
"When Dr. Resnick gave Nick's case scenario to me and talked of using a helmet to attach the fixators to, my immediate thought was skin care and adjusting for growth," says Rusty. "Helmeting is nothing new, but to attach an external fixator to a jaw anchored to his skull via a helmet, I thought of motion of the fixator having an adverse effect on his jaw bone, the fact that infant's cranial growth is exponential at this age — needing helmet size increases — and that the helmet would not be removable."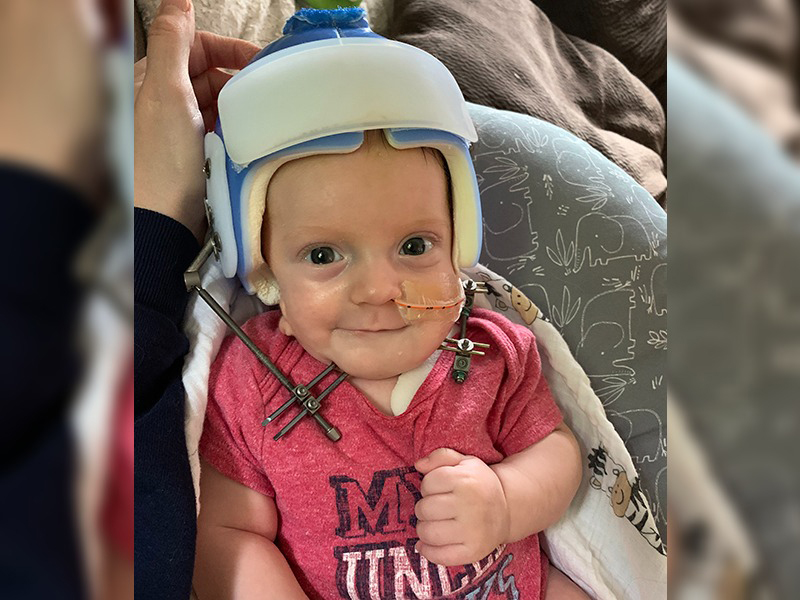 Lesson II: Resilience
On April 6, Nick underwent surgery.
"I had confidence my plan would work, but also trepidation about attempting a technique that had never been done before," says Dr. Resnick. "With the help of Rusty's thoughtfulness and flexibility to design a helmet to work in this new way, a great anesthesia team and an amazing family that was willing to take a gamble on an innovative technique, the procedure went just as planned."
Nick wore the little blue helmet for two months straight while the distractors worked their magic. Rusty would come in and check on his 'little blue helmet buddy' at least once a week, unless there was an issue with the helmet. "He's been amazing," says Katie. "The whole team has been super."
On June 4, Dr. Resnick and his team removed the distractors. Katie describes that moment as one of the best days ever. Before his jaw repair, Nick could only be held in certain positions, because the risk of airway obstruction was so severe. "For the first time in two months, I was able to hold him like a real child."
Nick spent a total of 82 days in the hospital. "He's one of the strongest babies," says Katie.
The transformation has been nothing short of remarkable. Nick is home and progressing rapidly. He's hitting all his milestones for his actual age, not his adjusted age. He also was able to get off the feeding tube. "He ripped it out," says Katie, "And I said, 'Alright, let's dance.'"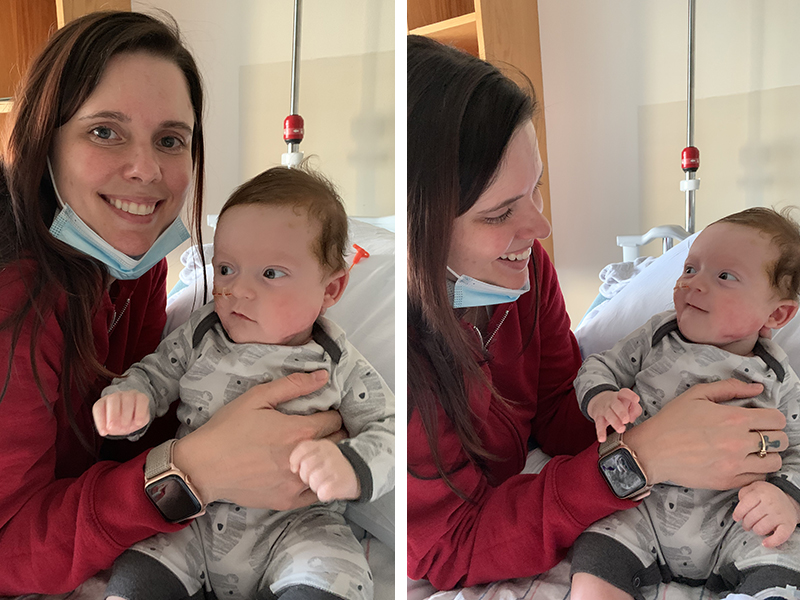 Lesson III: Acceptance
Katie reflects on the last nine months with appreciation and gratitude. She describes it as quite a journey. "I've learned a lot. I'm actually thankful for everything and wouldn't change anything."
To be clear, she would have preferred to avoid upper airway obstruction, but she wouldn't change anything about Nick — even his little ear. "It's opened up my eyes to a whole new world that I think people should be more open to seeing."
Despite everything he has gone through, Katie says Nick is a happy baby. He sings. He laughs. He listens with one ear — for now. They're hoping to receive his hearing aids before the year is over.
As a reminder of this time in their lives and the lessons learned, Katie holds on to the tiny blue helmet, which she has tucked away in a keepsake bag along with other items from his long hospital stay. "I can't wait to show him," she says. "I will tell him how strong, courageous and amazing he is, and how he can really conquer anything that comes his way."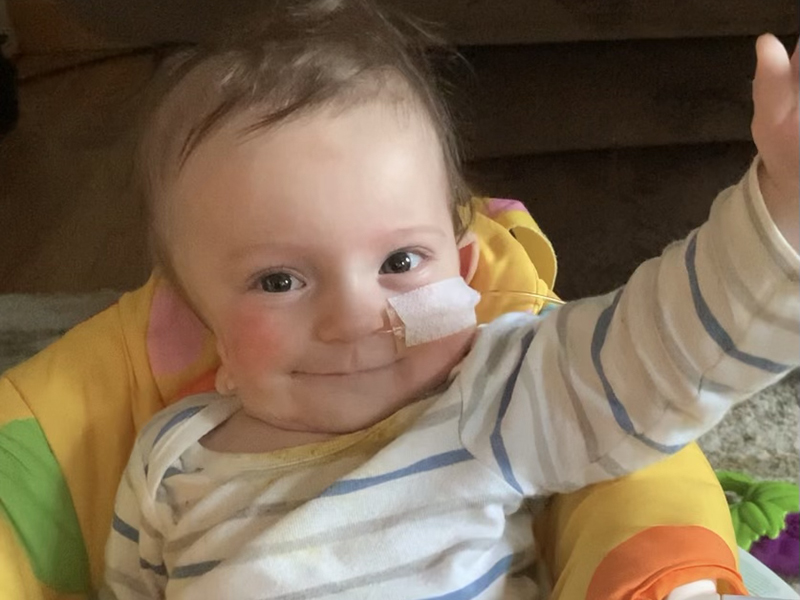 ---