One-Of-A-Kind Brace Protects Baby Born With Organs Outside Her Body
Posted on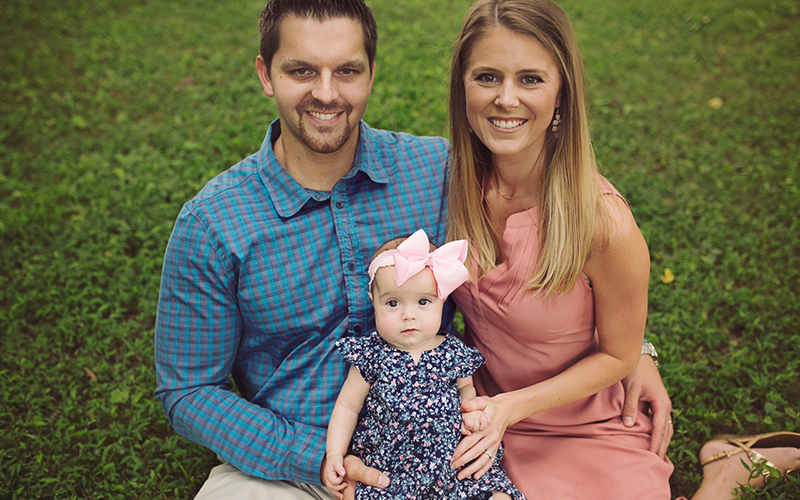 When Lindsey and Jeremy Walley went for a routine ultrasound at the five-month mark, the only surprise they expected to learn about their unborn child was whether they were having a girl or boy. But moments later, when they were asked to speak privately with the obstetrician, they knew something was wrong.
The images showed an omphalocele, a birth defect in which the liver, intestines or other organs protrude outside the body, and are covered by a thin, nearly-transparent sac.
"I'd never heard of an omphalocele," says Lindsey. "I had no idea what it was, but the doctor told me, 'You don't want to look it up.'"
They listened as their doctor explained the complications — the risk of infection and the danger of organ damage — and the potentially fatal impact on lung development. "Since this was my first child, I was scared to death," says Lindsey. "I was praying for a perfectly healthy baby, and this just came out of nowhere."
The Walleys sought out experts at Vanderbilt University Medical Center in Nashville, Tennessee, more than an hour drive from their home in Cookeville. A plan was put in place. Their baby girl would be delivered via C-section to prevent the omphalocele from rupturing during birth. And, depending on her development, she eventually would undergo "closure surgery," an operation that slowly shifts the organs back into the body.
Expecting the Unexpected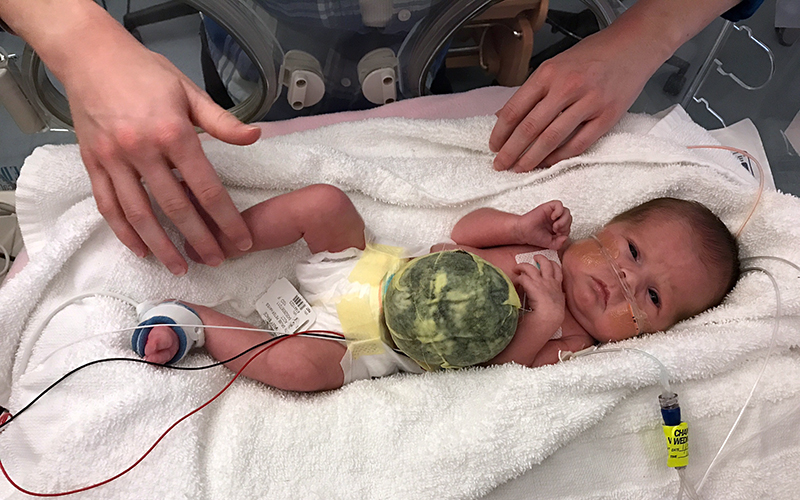 At 32 weeks, Lindsey went into labor, and on Jan. 11, Hailey was born. Because her lungs were not fully developed, she was immediately brought to the NICU and placed on a ventilator, her omphalocele wrapped in a protective bandage.
It would be hours before Lindsey would find the courage to lay eyes on her daughter.
"The whole scenario was terrifying to me," she says. "The omphalocele was the size of a softball, and she was a little 4-pound baby. When I saw it for the first time, I lost it."
Hailey's omphalocele progressed in stages. At birth, it was a clear sac with the organs and fluid fully visible. Then, skin began to grow around the area. A special cream was applied daily to help promote skin growth.
"Every time they did the dressing change I left the NICU," says Lindsey. "I wasn't able to look at it until several weeks later. I thought, if I am going to go home with a child with this, I've got to grow up and get used to it."
After 60 days, Hailey was able to leave the hospital. At home, she remained on full oxygen support and received nutrition from a feeding tube. For Lindsey, the prospect of caring for Hailey on her own was daunting.
"After having the nurses and the doctors by our side, it was difficult to come home. It took a while to get adjusted."
Protecting the Omphalocele
The scariest part about leaving the hospital was the omphalocele, the "O" as Lindsey refers to it. Hailey's doctor asked the Walleys if they would be interested in an experimental device that would act as a protective shell.
"I was so worried about the 'O' rupturing," says Lindsey.
Generally, doctors wait for the abdomen to grow and then perform omphalocele surgery, but the downside is they can't roll over and continue on with their developmental milestones. But Hailey's doctor had an idea. He approached Bulow Orthotic & Prosthetic Solutions in Tennessee, a company he had worked with in the past, and asked if they would be able to create a brace for Hailey.
"We found a case study in which Boston Orthotics & Prosthetics had previously made a brace for a patient with an omphalocele," says Kaitlynn Pung, a resident prosthetist and orthotist at Bulow Orthotic & Prosthetic Solutions. "So, we reached out to Boston and collaborated on the design and fabrication of the device discussing our goal of compressing the omphalocele to skin level at a safe rate."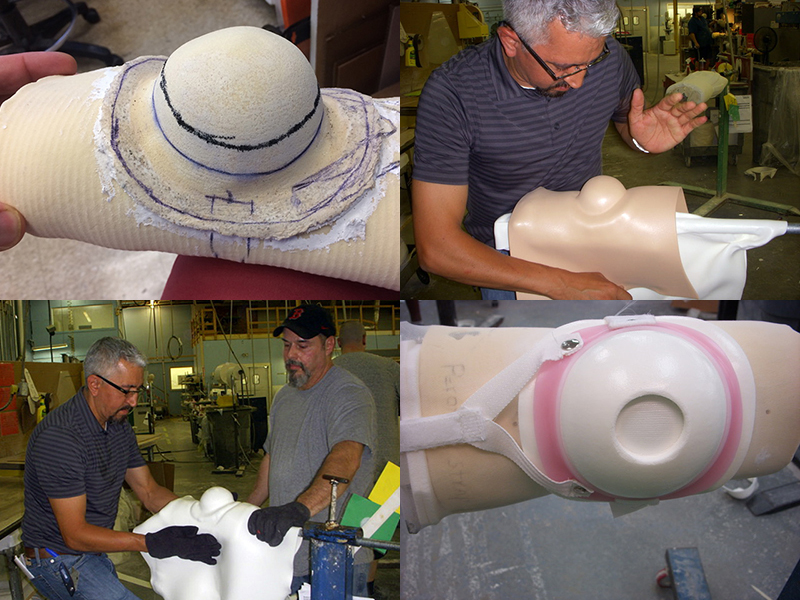 Bulow OPS worked closely with Boston O&P to fabricate what is called an "omphalocele compression orthosis," a rigid, turtle-shell-shaped, foam brace with a plastic base that wraps around the baby, compressing and holding the omphalocele in place. Prior to fabrication, Hailey's "O" was measured and then 3-D scanned. The data and images were sent to Boston for Rusty Miller, Boston O&P Vice President and Clinical Director, to work his magic.
"We were thrilled to be able to help Hailey," says Miller. "We're accustomed to creating special, unique devices, always with a common goal in mind — to provide the best patient care possible."
When Bulow OPS received the device back from Boston, they fit it on Hailey and waited.
"No one really knew what would happen," says Kaitlynn. "So, we checked in regularly with Lindsey on the progression, attended follow-ups as needed with her physician and made adjustments based on how the omphalocele reacted to different forces applied by the omphalocele compression device."
'It Lets a Baby be a Baby'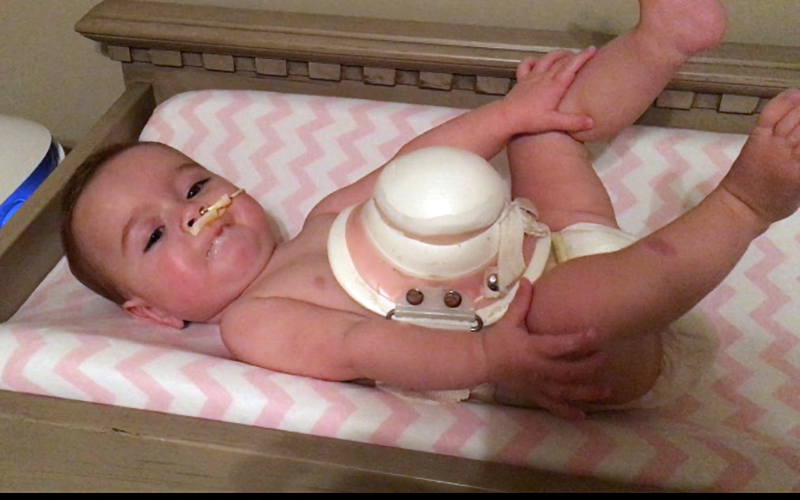 The hope was that the brace would encourage the abdomen to grow and ultimately make surgery easier by compressing the omphalocele into the abdomen. In addition, it allowed Hailey to be more active.
"It lets a baby be a baby," says Kaitlyn.
Since the device's delivery in June, the orthotists have made a number of adjustments to get the omphalocele closer to skin level to include the integration of padding and ace wrapping the omphalocele.
"She was considered a giant 'O,'" says Lindsey. "Now it is fairly small, thanks to the brace."
Hailey's corrective surgery is booked for November. "All of her outsides are going to be put on her insides," says Lindsey.
Although the Walleys are nervous about Hailey undergoing surgery, they remain optimistic and are looking forward to life without the "O."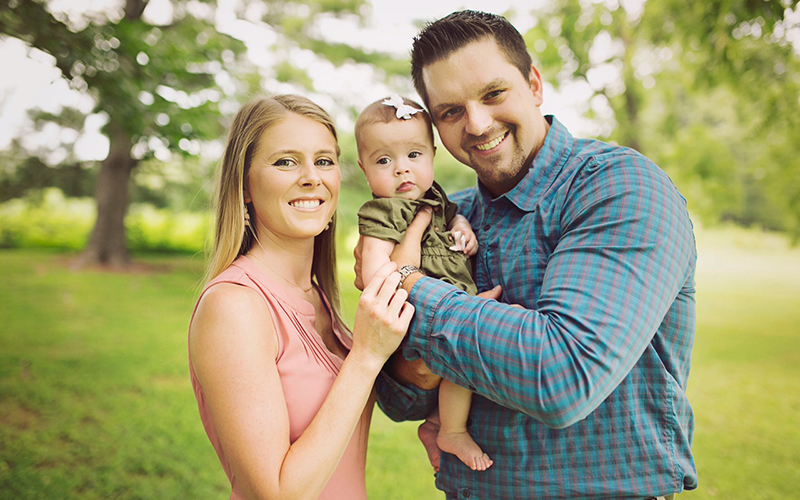 "From the beginning, Hailey has been this child that has never shown discomfort," says Lindsey. "She is the best laid-back baby. I can't wait for her to be able to roll over and have tummy time — to be able to do all the things she never did before.
Learn more about Boston O&P's innovative products.
---