Owen's Helmeting Story: Mom Notices a Rounder Head After 3 Weeks
Posted on
When Andrea Schleibaum's son Owen was 3 weeks old, she noticed something. "He had a flat spot on the back of his head," Andrea said. "We have another daughter and she also had a flat spot when she was a baby. We didn't get it addressed and it never fully resolved. She has a full head of hair now and most people can't tell, but I can tell because I'm her mom. This time with Owen we really wanted to get it fixed."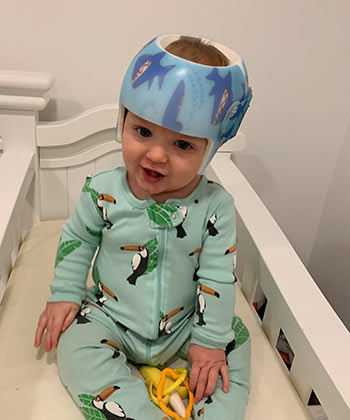 Andrea is a physical therapist, so she was no stranger to plagiocephaly. She checked for torticollis and tried repositioning, but it wasn't enough. "Certainly the repositioning helped, but it never corrected the problem," she said. When Owen was 4 months old, Andrea took him to a pediatrician to get a prescription for a corrective helmet. The pediatrician recommended repositioning and said it would probably even out.
"I was skeptical but I did go back and kept trying repositioning. Finally I thought, this is not getting better." She took Owen to a different pediatrician for a second opinion, and that pediatrician recommended the Boston Band.
As a PT, Andrea had worked with patients with lower limb orthotics from Boston O&P, but didn't realize the company manufactured plagiocephaly helmets as well. She took Owen to the Boston O&P clinic of Peabody, Massachusetts and saw Matt Veiga, a Certified Orthotic Assistant.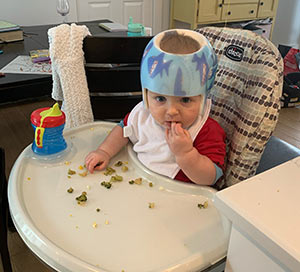 "Matt was great, I was so pleased." Andrea said. "There were zero issues and it was so simple." And how did Owen react to wearing the helmet? "He could not care any less," Andrea said with a laugh. "It's so funny, he's happy as a clam."
"Matt has been awesome," Andrea said. "Obviously Owen keeps growing so at one point his helmet needed an adjustment. Matt was able to take care of those quickly and efficiently. I sent Matt some pictures and with his help I was actually able to address it myself." Another time, Owen's head outgrew the helmet completely, so they went in for another fitting and Matt removed a layer to accommodate his growth and ensure the helmet would fit correctly.
Andrea started to see results after just 3 weeks in the helmet. "One day I took it off and thought, 'Wow, your head is so round! It definitely did not look like this before.'"
Owen has worn the helmet for 4 weeks and has another 2 weeks to go, and Andrea is delighted with the results. "I'm so glad we advocated for ourselves and really pushed for it," she said. "I have been so pleased with the care we have gotten. His helmet is working wonders and the staff has been so pleasant to work with. I wouldn't change a thing."
If you have noticed flattening on your baby's head, please contact any Boston O&P clinic to schedule a free, no obligation consultation appointment with a certified orthotist specializing in plagiocephaly, who will assess the flattening, take measurements of the baby's head, answer any questions you may have and make a treatment recommendation.
---