Nicholas Grigorieff, CPO
Certified Prosthetist Orthotist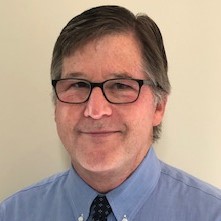 Specialty
Pediatric lower extremity orthotics
Spinal orthotics

Cranial remolding helmets

Sports Medicine
Below knee prosthetics
Education, Certifications, Memberships
ABC Certification in Orthotics and Prosthetics 1985
Graduated from the University of Washington's Baccalaureate Orthotic and Prosthetic 1982
Member of the Academy of Orthotics and Prosthetics
Philosophy: Always remember the patient's/parent's goals. Strive to provide the device and care that will allow them to reach their desired goals and achieve the best outcome possible. Share ideas, ask questions and be a team player. And lastly, keep learning.
Biography: I was born and raised in northern California. I became seriously interested in orthotics and prosthetics while in high school after experiencing an injury that required me to wear an orthosis for protection postoperatively. I have always enjoyed working with my hands and found the idea of providing a device capable of improving someone's functionality, comfort and quality of life very exciting. I spent my high school summers working as a technician for an orthotic and prosthetic facility to gain more exposure to the profession and make sure it was something I wanted to pursue. After three summers, I was convinced I had found my calling.
After graduating from the University of Washington's O&P program in 1982, I began my career working at Boston Children's Hospital concentrating in pediatric orthotics. In 1989 I went into private practice where I spent the next 20 plus years working with patients of all ages and wide range of orthopedic and neurological issues.
I enjoy outdoor activities and like to be as physically active as possible while spending time with my wife and now mostly adult children. We enjoy most any physical activity and traveling as a family.