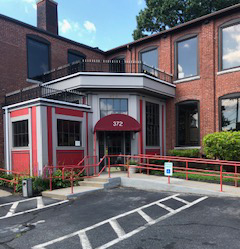 Boston Orthotics & Prosthetics is pleased to announce that it is opening a new clinic in January 2021, in Worcester, Massachusetts.
The new Boston O&P clinic will focus on providing pediatric orthotic and prosthetic services throughout Greater Worcester, specializing in the non-surgical treatment of scoliosis, high-quality lower limb orthotics, and the management and treatment of deformational plagiocephaly.
Nicholas Grigorieff, CPO, who joined Boston O&P in 2020, will be the clinic director for the new Boston O&P of Worcester clinic. Nick specializes in scoliosis and pediatric lower extremity orthotics and has worked with Boston O&P over the past number of years as a provider of their products.
"Through patient symposiums, Boston Brace 3D courses, and utilizing their lower limb products I interacted with several other Boston O&P practitioners and always said, 'I want to be a part of that team," Nick says. "Boston O&P specializes in pediatrics, which I love. I could not wait to join and collaborate with them."
Per CEO Tom Morrissey, "Nick has a strong reputation for taking care of kids, and we're excited to add his experience and talent to our team. We welcome Nick and look forward to expanding our presence in the Worcester area."
The new clinic will be located at 372 Chandler Street, Unit 104 in Worcester, Massachusetts and is expected to open in January 2021. For more information, see the clinic page for the new Boston O&P of Worcester and Nick's profile.
If you or your company would like to become part of the Boston O&P team, please do not hesitate to reach out to CEO Tom Morrissey via email at tmorrissey@bostonoandp.com.
---