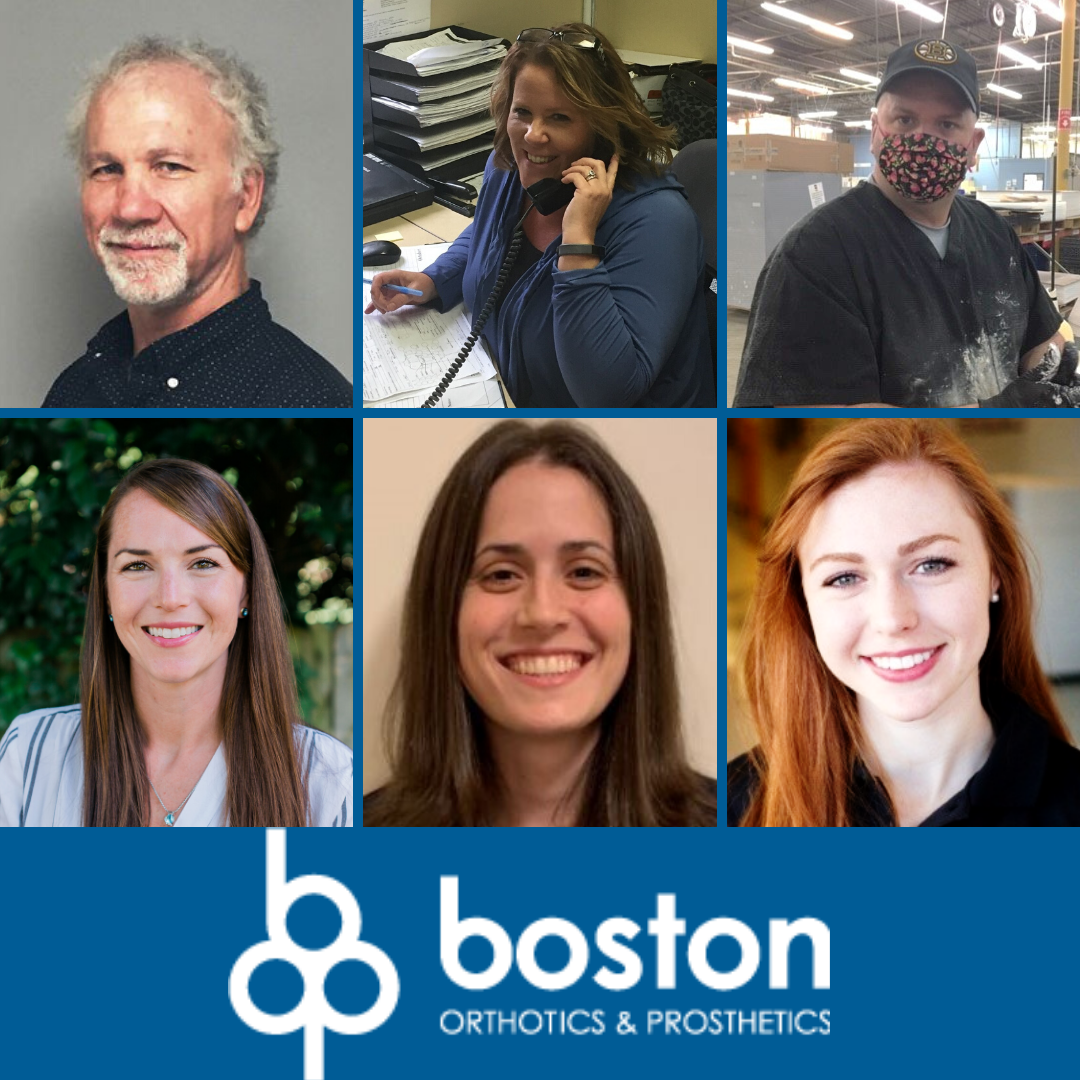 Every year, Boston Orthotics & Prosthetics gives Employee Owner Awards to employees who best exemplify the ideals of being "Employee Owners."
To determine the winners, Boston O&P asks employees which of their teammates they would nominate to receive an award, and asks the previous year's winners to review the submissions and make their recommendations for who they think should receive the awards.
This year's winners of the Employees Owner Awards are Steve Buckley, Debbie Frazier, and Mike Mazerall.
The Rookie of the Year Award, for a new employee or team that best exemplifies the ideals of being an employee owner, this year goes to the teams of Ksenia Major and Devin Powelson and Melissa Benedetti and Ashton Wagner.
Congratulations to all the winners and nominees!
Below is a write-up on why each of the Employee Owner Awards winners were nominated and selected.
2019 Employee Owner Award Winners
Steve Buckley, Production Lead
Steve has been with Boston O&P for almost 17 years and is recognized as a lead that is always willing to jump in and help others. Steve has always learned from LEAN, has worked to create templates and has incorporated different tools to make the Boston Band helmet finishing easier and faster. His hard work has helped to continuously improve the helmet area to ensure they achieve their goals every day. He is known to be a reliable employee and is cross-trained to help out in the lower limb production area when needed. Steve is also working with other technicians in his department to cross-train them. Steve and his team have done the Kaizen Spaghetti Walk in their working areas and have been very successful on their approach with LEAN principles and techniques.
Debbie Frazier, Customer Service Representative
Debbie is a highly valued employee who has supported Boston O&P for 29 years and is very knowledgeable about all aspects of bracing. Debbie is at work every morning by 7:15 a.m. She can be relied on to educate and train all of her colleagues in efficient ways to get the job done. Debbie provides great input when implementing new procedures. She is constantly thinking up new ways to LEAN out the process in customer service. Our customers always have a good word about their interactions with Debbie.
Mike Mazerall, Certified Orthotic Assistant
Mike has been with Boston O&P for 6 years and lives the LEAN culture every day. He is constantly looking for ways around the clinic to make every process LEAN. He also consistently follows through to ensure the change takes hold and is followed by everyone on the team. Mike always puts the patient first and ensures to the best of his ability that they have a pleasant experience at Boston O&P. He finds any and all ways to assist a clinician so that the patient care can be the main focus of the appointment. If you go to him for help, he will drop what he is doing in order to help and make everyone's day easier. It is clear that Mike cares deeply for his patients. He treats each of them with the utmost respect and takes the time to build a personal connection with them to ensure they will come back again and again. He juggles many roles and is an indispensable part of the team.
2019 Rookie of the Year Awards
Ksenia Major, Certified Orthotist & Devin Powelson, Administrative Assistant
Ksenia and Devin have been the dream team since day one. While having to endure working in a temporary space and having little to no equipment—Ksenia's home being used as a delivery site and having limited resources in a remote clinic—they still managed to get the job done. They both have great attitudes and are hard workers. Ksenia brought with her a very loyal patient following. Both Devin and Ksenia quickly adopted our culture and took the time to make the internal relationships needed to succeed for their patients.
Melissa Benedetti, Certified Prosthetist Orthotist & Ashton Wagner, Certified Orthotic Assistant
Melissa joined our team in a challenging, fast-paced environment and has risen to the occasion without complaint. She is enthusiastic and contributes to the team in any way she can. She is receptive to feedback and actively seeks critiques in order to improve her processes and patient care. She has an excellent rapport with the physicians, nurse practitioners and physical therapists at Children's Hospital of Philadelphia. Colleagues around the hospital have given rave reviews and are very satisfied with her work and her collaboration with the medical teams. She has quickly learned processes and has openly contributed to LEAN discussions to make the office environment more efficient. Ashton joined our team at a time of transition and has easily grown into a versatile, competent COA and CFo. She has learned the technical aspects of the position rapidly and has been a huge asset to the team, which has allowed the team to fully implement LEAN one-piece flow processes in both the clinics and remotely at the hospital. Ashton is confident in her skills but also knows when to seek help from others. Ashton is able to operate independently and fill in where needed, many times completing tasks before being asked. She has a thirst for learning that embodies the spirit of continuous improvement.
We would also like to acknowledge the other 21 nominations that were received for outstanding employees. Thank you for your dedication and hard work over the last year.
2019 Employee Owner Award Nominees
Central Billing Team
Gordy Frazier
Rusty Miller
Jessica Bennett
John Greaney
Ayla Munoz
Ray Chisholm
Tom Harrigan
Ed Rand
Katrina Cook
Russell Jones
John Sceppa
Lauren Cook
Arthur Kitchen
Shanee Simmons
Tom Deagle
Mike Kitchen
Crystal Slawinski
Sarah Delaney
Natalie Kreiser
Caitlin Sullivan
---