Congenital Scoliosis: Caiden's story
Posted on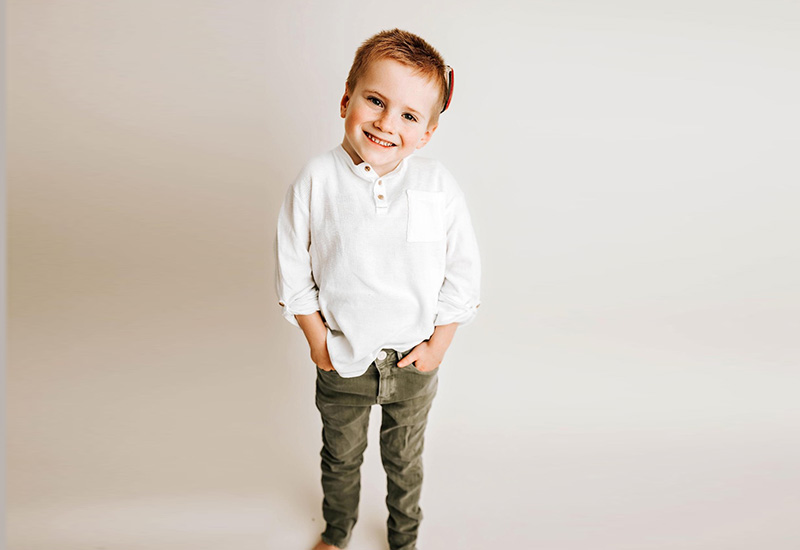 Caiden Portz's smile says it all. "He's a very kind, calm, sweet-natured kid," says his mom, Laura. "And, he's very resilient."
Resiliency has been key when it comes to Caiden's journey with a complex form of congenital scoliosis, a sideways curvature of the spine that occurs when the vertebrae do not form normally before a baby is born.
The journey has led the Portz family to multiple specialists across the East Coast, all of whom agree Caiden will eventually need spinal fusion surgery to straighten the spine and solidify the bone, so it will no longer curve abnormally. His parents were told he'd likely need the procedure shortly after he turned 2.
Controlling the Curve with a CTLSO
When Caiden was a year old, his physical therapist said it was time to think about coming up with some sort of bracing. Caiden had a 75-degree neck curve and a 40-degree curve in his thoracic spine, so he needed equipment that would provide stability, particularly for his head, which without support rests on his left shoulder.
Ksenia Major, an orthotist at Boston O&P of Richmond first saw Caiden when he was 2. "Caiden needed a brace that would not only hold his head upright and prevent curve progression, but also keep him moving as actively as possible," says Ksenia.
Working closely with his parents and physical therapist, Ksenia used 3D scanning technology to create a cervical thoracic lumbar sacral orthosis (CTLSO) that runs from Caiden's lower back to the top of his neck with a headpiece added to his left side. It works somewhat like a body cast, but it can be removed.
"When we were working with Ksenia, there were many changes and adjustments, but she was so patient with us," Laura says. "I remember she came to PT with the brace one day, and she put it on Caiden, and we all said, 'Oh my gosh, that's it.'"
A More Stable Future
The CTLSO has not only helped reduce Caiden's discomfort and pain, but it's also kept him out of the operating room.
In January, the Portz's received a fourth opinion from a surgeon in Delaware. Laura recalls the surgeon's reaction when he saw the brace, "He said, 'Why do you want to do surgery? This is not in the textbooks. Braces are not supposed to work for congenital scoliosis kids, but this is working.'"
As Caiden grows, Ksenia frequently fits him for new CTLSOs. He's on his third. And for now, the plan is to continue bracing. Despite everything Caiden has endured, his mom says he doesn't let anything hold him back. "Since he was a baby, he's always been ahead in meeting milestones and doing things no one thought he would be able to do."
---