Following Surgery and Helmet Therapy, Levi is Living it Up
Posted on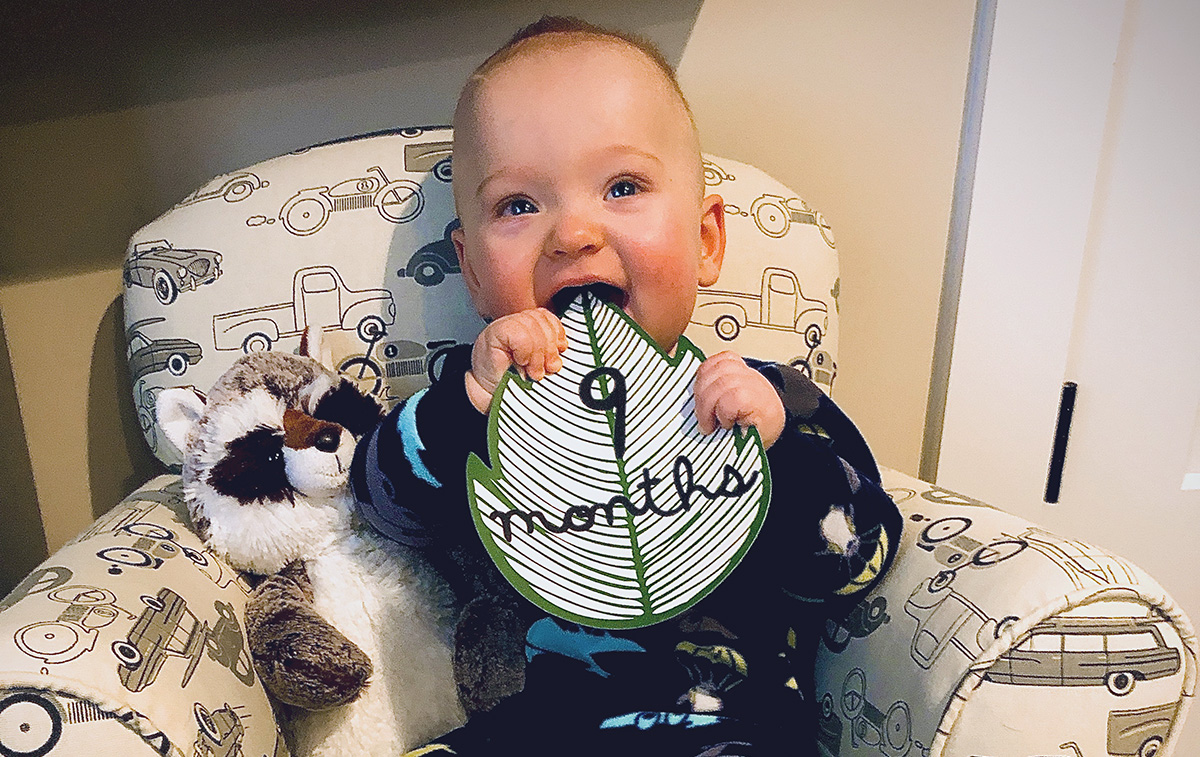 Levi Merry is what his mom, Rebecca, calls "a little ham." "The kid has had so many photos taken from the moment he was born, yet he's always smiling," — smiling despite everything the 9-month-old has been through.
Levi was born with craniosynostosis, a birth defect in which the fibrous joints between the bones of a baby's skull (cranial sutures) close prematurely (fuse), giving the head a misshapen appearance and leading to possible pressure on the brain.
"I've been a nurse for 10 years," says Rebecca, "and I'd never taken care of a patient with this diagnosis before, so it was very scary."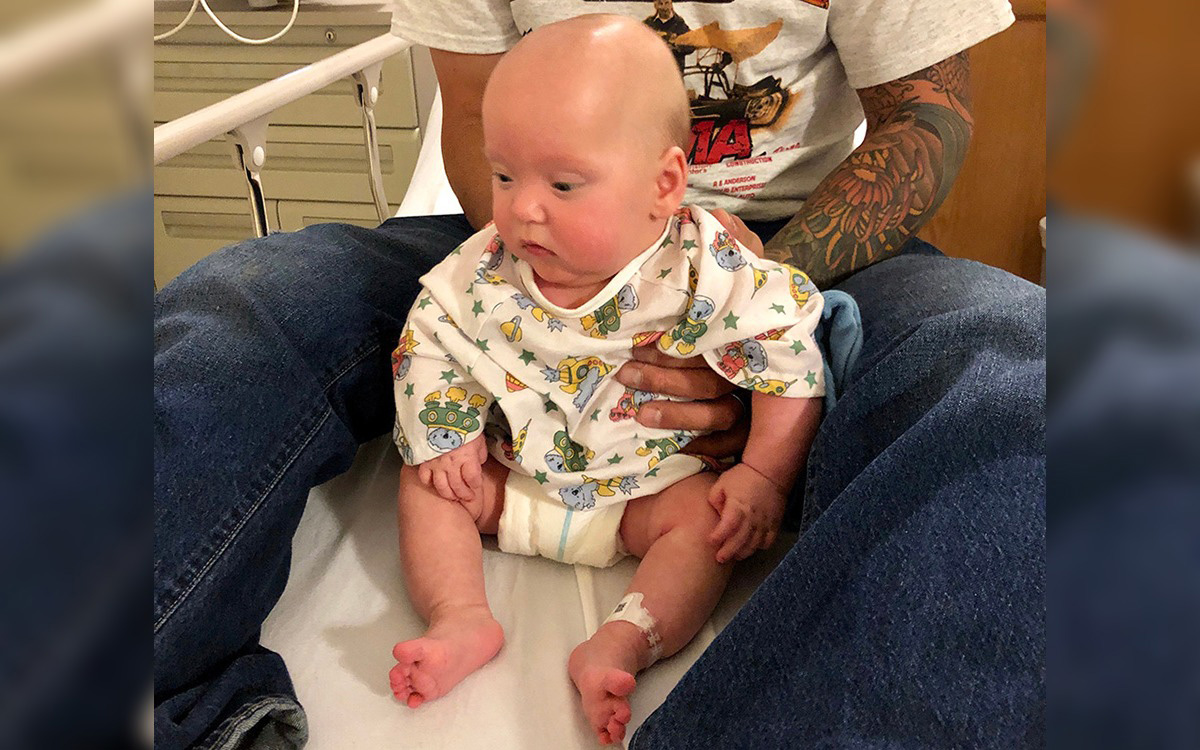 Surgery for Levi
Although residents of Plaistow, New Hampshire, the Merrys chose to have Levi treated at Boston Children's Hospital. They were given two treatment options: Cranial vault remodel (CVR), a surgery that remodels or reshapes the bones of the skull, or an endoscopic procedure, a minimally invasive surgery to remove the affected suture, followed by helmet therapy to enable the head to form properly.
"CVR is a major surgery," says Rebecca. "It's intimidating, but it's one and done without any helmet therapy. But for me, I could not choose putting him through a surgery with blood transfusions and drains in his head."
The endoscopic procedure meant planning for life in a helmet for approximately one year. He needed to wear it 24 hours a day, so that as he grew, the helmet would gradually correct the shape of his head.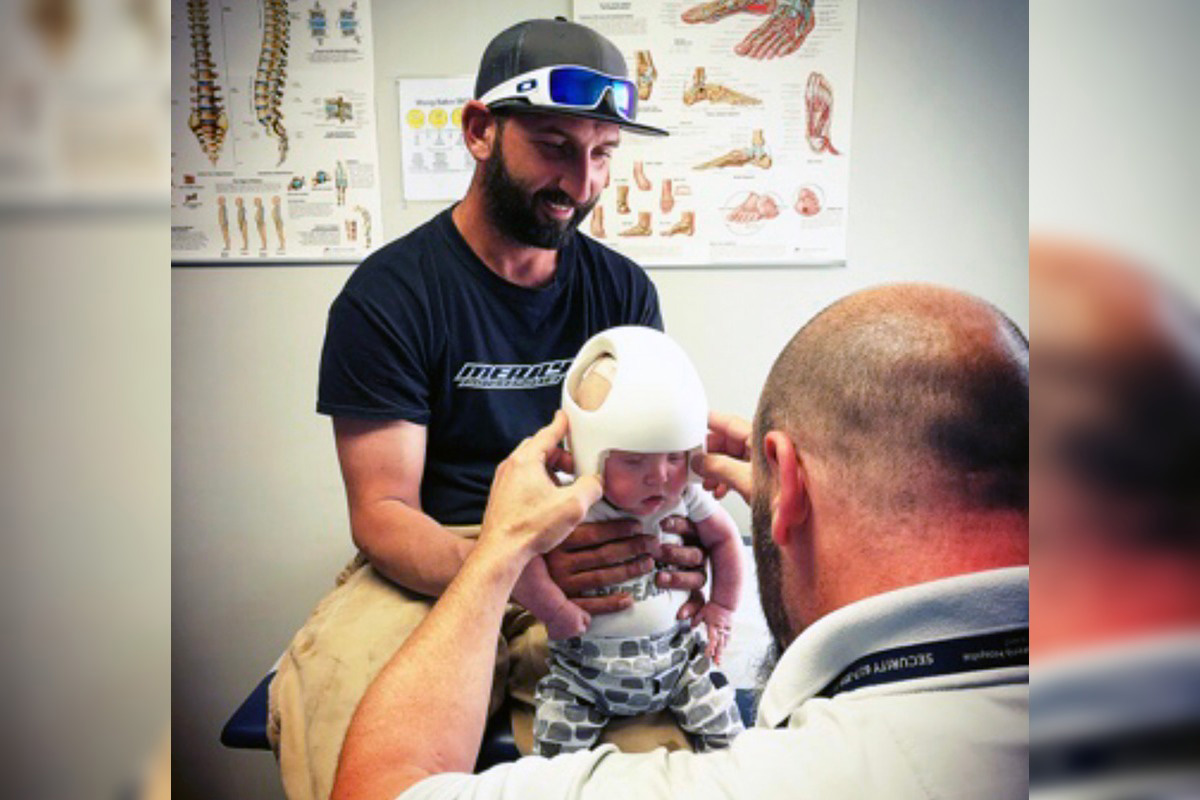 Helmet Therapy
Just two days following his surgery, Rebecca and her husband, Matt, brought Levi to Boston O&P of Salem, where he was seen by Rusty Miller, CPO, vice president and clinical director of Boston O&P New England Area Clinics.
"Parents are often somewhat shocked to learn that we don't want to wait for the head to heal," says Miller. "Babies grow really fast, so the use of a post-operative helmet to aide in the remolding of the head is most effective immediately following removal of the fused suture."
Rebecca remembers being anxious. She worried how Levi would react to the helmet. "I think it was harder for us," she says.
Miller measured Levi's head and showed the Merrys how helmet therapy works, how gentle, persistent pressures are applied to capture the natural growth of his head, while inhibiting growth in some areas and allowing for growth in others.
"Rusty was absolutely fantastic," Rebecca says. "I feel like you can tell when someone is really good at their job. He was confident and comfortable."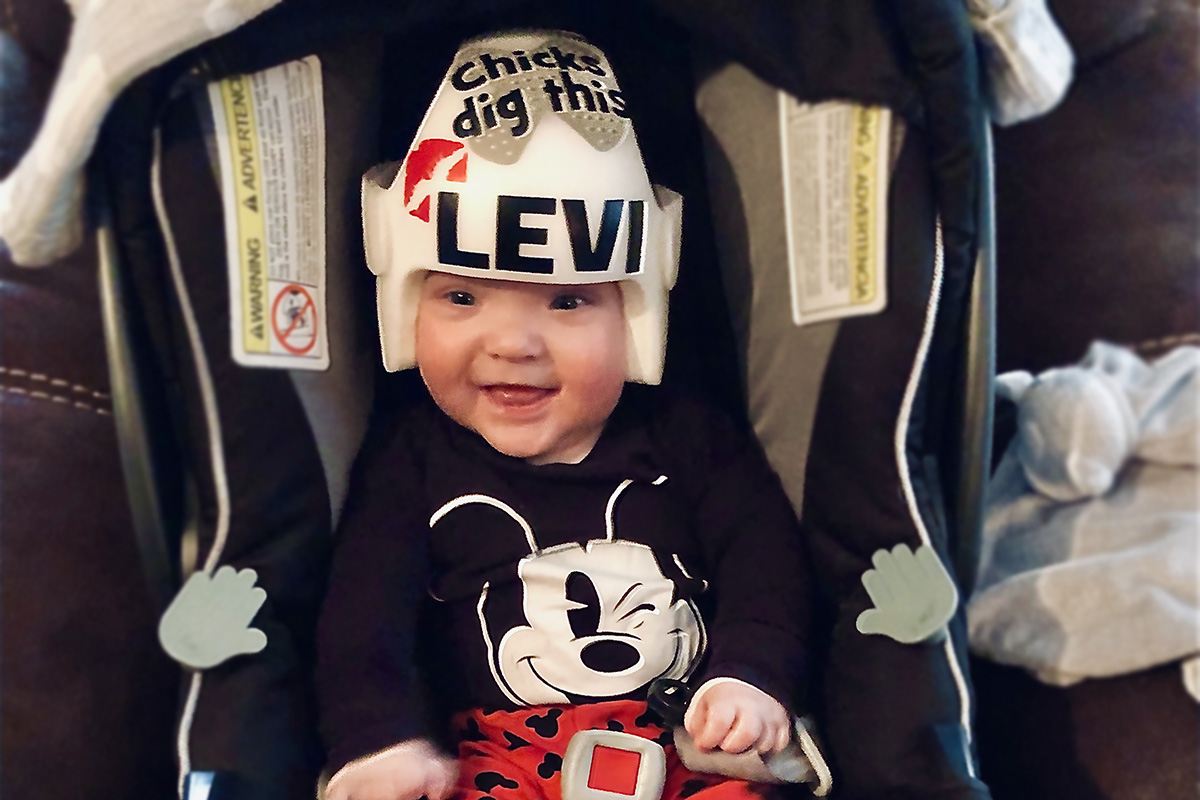 Only 4 months old at the time, Levi was unfazed. He didn't seem to notice the helmet coming on and off as Miller adjusted it, methodically adding on and shaving off the unique layers of foam that lined the hard-shell exterior of the Boston Band.
"I think Levi didn't know any different, and he didn't mind it one bit," says Rebecca. "He didn't mind sleeping in it, napping in it—he was a dream."
Following his first helmet fitting in September, Levi grew fast. Every week or two, the Merrys would visit orthotist Stephen Beaudoin, Boston O&P of Salem clinic director, for helmet adjustments and every six weeks, for three-dimensional scans.
"Steve would put this little cute sock on his head that looks like a grocery store scanner, which puts a 3D image onto a computer screen. This way they could track how his head was growing throughout the process, and make any necessary adjustments."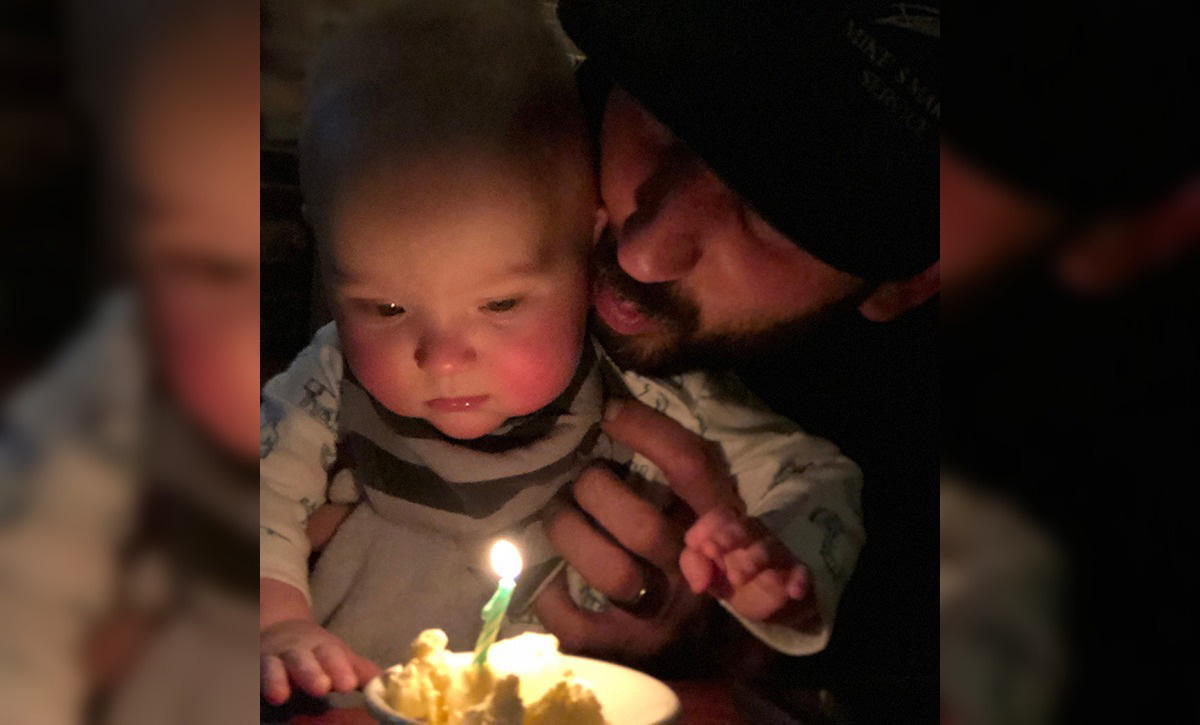 Celebrating Graduation
In December, an early Christmas gift arrived. Levi's head was right where it was supposed to be—ahead of schedule. "They told us to expect a year, and we ended up just shy of three months," Rebecca says.
The Merrys gathered their family together at a local restaurant to celebrate what they call "Levi's helmet graduation."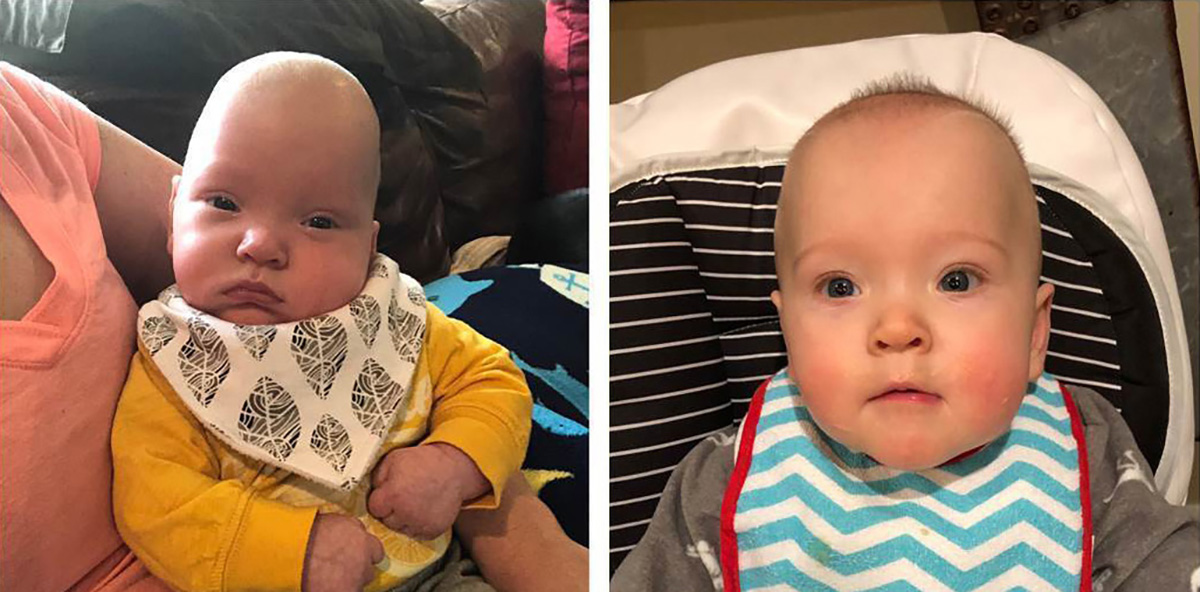 ---