Boston O&P of Voorhees - Moving to Marlton, NJ on 7/27/22
Contact
200 Bowman Drive
Suite D279
Voorhees, NJ 08043
Tel: 856.258.6712
Fax: 856.809.2680
Hours: M, W, F 8:00 am - 4:00 pm T, Th 8:30 am - 6:00 pm

Driving Directions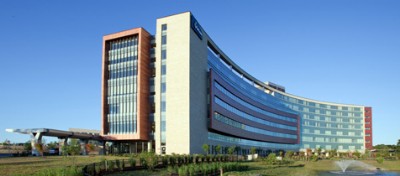 Our Goal is a Positive Patient Experience
Learn More
This clinic is moving to Marlton, NJ on 7/27/22. The new clinic, located on 546 Lippincott Drive, will begin seeing patients on 8/2/22. Here you'll be able to get the same great service you've come to expect in Voorhees.
The Boston O&P Voorhees clinic offers pediatric orthotics and prosthetics in Voorhees, New Jersey, specializing in the non-surgical treatment of scoliosis, high-quality lower limb orthotics, and the management and treatment of deformational plagiocephaly.
Our dedicated staff is capable of handling the full-range of orthotic and prosthetic needs for all children, especially those with very involved diagnoses requiring high-end orthotic support.
The Voorhees clinic is located in the Virtue Health and Wellness Center. Follow signs for Neighborhood D parking. There are several areas of accessible parking spaces available in this lot. Enter through the Penn Medicine D3 entrance. Take the elevator to the second floor, turn right out of the elevator and right down the hall. The office, Suite D279, will be the first door on the left.
Read about Boston O&P of Voorhees - Moving to Marlton, NJ on 7/27/22