John Shimkus, Boston O&P Regional Manager, Turns to a Colleague to Treat His Son
Posted on
As the Regional Business Manager of Mid-Atlantic and Midwest for Boston Orthotics & Prosthetics, John Shimkus, CO, doesn't see patients much anymore, so when his son AJ needed a scoliosis brace, he turned to a Boston O&P expert: Mike Kitchen, BOCO.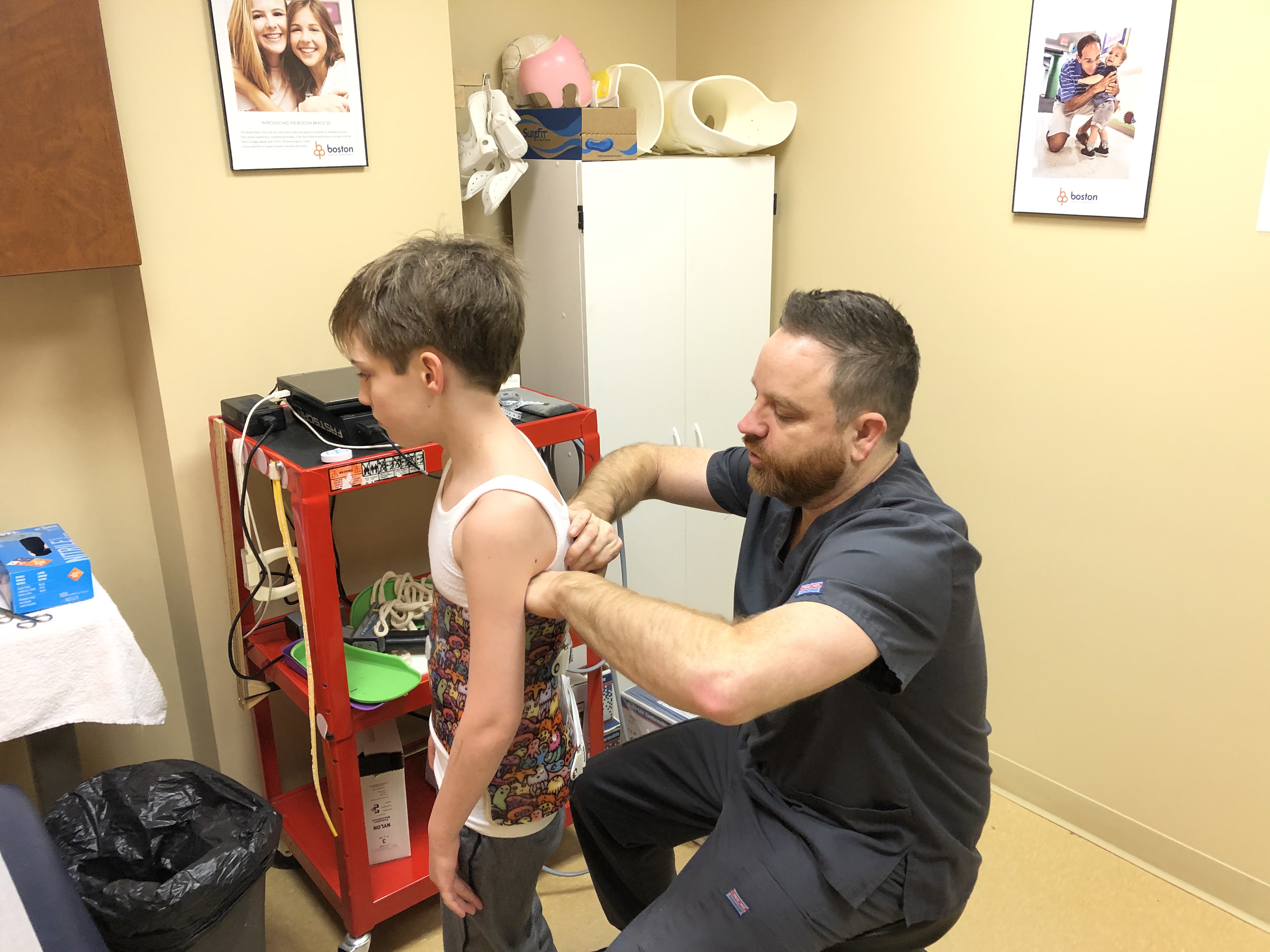 AJ was adopted at 3 months old and was born with congenital scoliosis, which is a relatively rare form of scoliosis that is present at birth and is caused by improperly formed vertebrae.
Congenial scoliosis usually doesn't progress, but in AJ's case it did. John took AJ to see a doctor who is one of Boston O&P's referral sources, and the doctor recommended a brace to stop the progression of the curve.
When it came to finding an orthotist for AJ, the choice was easy. "I'm Mike's supervisor and we work well together," John says. "Mike's the top scoliosis provider here in our East Brunswick clinic, and one of the original designers of the Boston Brace 3D®, so I knew AJ was in good hands."
Adds Mike, "AJ's family have quickly become close friends of mine and my brother Art (also a Boston O&P clinician) since his dad's move over to Boston O&P more than seven years ago. Understandably, some might be a bit nervous about treating "the bosses kid," but that's not how it is in this case. AJ is such a great kid! I love it when he shares his advanced opinions on various topics such as global politics and education."
While some kids worry about how wearing a scoliosis brace will affect their lives, AJ was actually excited. "He always knew he had scoliosis and he talked about it all the time because he knows what I do," says John. "He was kind of excited about getting the brace and he got to choose the color and the transfer patterns."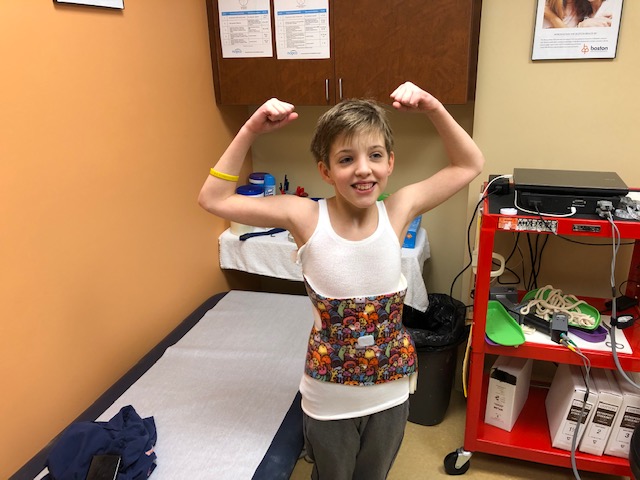 AJ is only required to wear his Boston Brace 3D for about 14 hours a day—after school and at night—but according to his dad, he's always asking to put it on. "After the fitting, he wanted to wear it right out the door," John says. "We had no issues with it the first night and he's been wearing it ever since."
Two weeks after the initial fitting, the first follow-up showed a great in-brace correction. "It has corrected the spine up nicely," says John. AJ will wear the brace until he is skeletally mature, probably till age 17 or 18.
Mike added, "we fit him with a Boston Brace 3D because it's the easiest, most effective product we offer, so I have been completely confident throughout the process. AJ is doing great and will very likely get through his remaining growth without complications."
John has 6 children, and AJ is not the first to have experience with orthotics. His daughter Savannah is an administrative assistant at Boston O&P East Brunswick, and his son Benjamin is in school to become an orthotist and works at Boston O&P as an orthotic assistant in the summer.
As with many of Boston O&P's valued team members, for John, orthotics has become a family affair.
---