Boston Soft Spinal Orthosis (SSO)
The Boston Soft Spinal Orthosis (SSO) is designed to provide sitting and standing posture support to patients with neuromuscular scoliosis or neuromuscular disease presenting with low tone. The versatility and comfort of this brace makes it ideal for treating many types of trunk instability.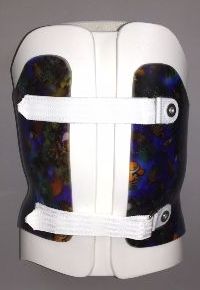 Boston Orthotics & Prosthetics founder Bill Miller invented this foam brace with plastic stays (plastic struts about 1-inch wide) strategically placed (two in the front, two in the back and one each on the left/right side) designed to support the patient's trunk. This allows the patient to devote their energy to better head control and allows some use of their upper extremities (because their arms are not being used to hold themselves up—the brace is doing that).
Boston O&P also offers a Boston Soft Scoliosis Brace, which adds to the Boston SSO design with an external Boston Brace-style frame.
Features
Lightweight
Permanent or removable plastic stays
Internal or external frame
Various designs, materials and brace opening options
Benefits
Allows increased diaphragm expansion for easier breathing
Reduces skin irritation
Improved patient seating
Easy to clean
WHAT IS NEUROMUSCULAR SCOLIOSIS?
Neuromuscular scoliosis can occur in individuals of any age as result of another diagnosis, such as cerebral palsy, that results in significant weakness or spasticity of the muscles. Over time, this muscular imbalance and lack of trunk stability causes curvature of the spine. Unlike other forms of scoliosis, individuals with neuromuscular scoliosis typically cannot tolerate the rigidity of the Boston Brace method of bracing, and do better with something more comfortable, such as the Boston SSO.
Fit, Sizing & Additional Information